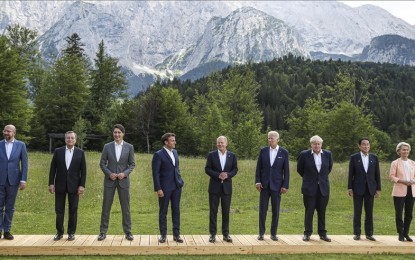 SCHLOSS ELMAU, Germany – The world's seven largest economies have agreed to use money collected from higher trade tariffs on Russia to help Ukraine, according to a statement issued by the White House on Monday.
On the second day of the Group of Seven summit in Germany, leaders made new commitments to hit the Russian economy further and "ensure that Russia pays for the costs of its war," the statement.
"The US will implement a higher tariff rate on more than 570 groups of Russian products worth approximately USD2.3 billion to Russia," it said.
It also noted that all members will commit to helping Ukraine in covering its short-term budgetary funding shortfalls, including a USD7.5 billion commitment from the second supplemental from the US.
"Leaders will also make an unprecedented, long-term security commitment to providing Ukraine with financial, humanitarian, military and diplomatic support as long as it takes," it said.
The new support will include maintaining "Ukraine's credible military readiness and defense, including through the timely provision of modern defense equipment and advanced weapons systems."
Meanwhile, UK Prime Minister Boris Johnson will call on world leaders to take urgent action to get essential food supplies out of Ukraine at the G-7 summit.
The government plans to repair vital railways to transport grain out of the country by rail.
"The UK is in close discussion with the Government of Ukraine about how to maximize their rail capacity and keep both trains and grain moving," an official statement said on Monday.
Since the start of Russia's war on Ukraine, the first in-person gathering of the world's seven leading economies kicked off in Germany on Sunday with leaders discussing the war-driven food and energy crises.
The three-day event is taking place at Schloss Elmau in the Bavarian Alps, with its agenda considered more urgent than ever as the war in Ukraine continues. (Anadolu)