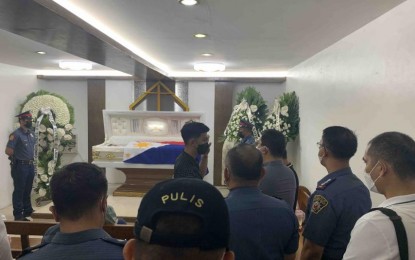 MANILA – The Philippine National Police (PNP) on Tuesday recognized the bravery of a police officer who was killed in an operation aimed at arresting a member of the Communist Party of the Philippines-New People's Army (CPP-NPA).
"The OIC (officer-in-charge) PNP (Lt. Gen. Vicente Danao Jr.) personally expressed his deepest sympathy to the bereaved family of PSSG (Police Staff Sgt.) Nikki Codera, granted him the posthumous award of Medalya ng Kadakilaan in recognition of his heroic deed. Accordingly, PNP will shoulder all the funeral expenses of the demised member," National Capital Region Police Office (NCRPO) chief Maj. Gen. Felipe Natividad said in a statement.
Natividad, who also visited the fallen police officer's wake, expressed his heartfelt condolences to his family and loved ones.
"The entire NCRPO grieves with the family of Staff Sergeant Codera for losing a comrade, a son, a friend, a brother in police service but most of all, an honorable public servant," he said.
Meanwhile, Danao and Natividad also visited Lt. Rogelio Walay, the arresting team's leader who was injured in the encounter and assured due assistance to him.
Danao also renewed his call for CTG members to surrender peacefully and return to the fold of the law, saying the police force does not want lives being lost due to bloody operations.
On June 24, police officers attempted to arrest the suspect Hubert Aplacador, who is wanted for murder by a Masbate court in Barangay 157, Malibay, Pasay City.
However, Aplacador opened fire at the arresting team, prompting them to retaliate which resulted in his death.
Walay and Codera were immediately brought to the nearest hospital after the encounter. Walay is now in stable condition but Codera was pronounced dead on arrival. (PNA)