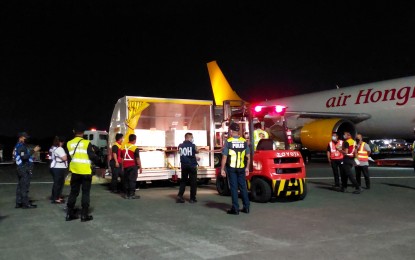 MANILA – The Philippines will receive at least 17 million more doses of coronavirus vaccines from the World Health Organization-led COVAX facility after the end of President Rodrigo Duterte's term.
Secretary Carlito Galvez Jr., chief of the National Task Force Against Covid-19 (NTF), bared the COVAX commitment Monday night when he welcomed 299,520 doses of Pfizer jabs at Ninoy Aquino International Airport Terminal 3 with United States Embassy Manila Chargé d'Affaires Heather Variava.
The jabs were donated by the US government through COVAX and was the final vaccine delivery under the Duterte administration.
"The COVAX Facility has committed to deliver 17 million doses of Covid-19 vaccines, mostly US donations. They also promised to replace all expired jabs," Galvez said in an interview.
He thanked the US government as well as other partner nations for helping the Philippines ensure a steady supply of Covid-19 vaccines.
The Philippines received a total of 245,382,600 doses under Duterte's watch, with 35.6 million doses donated by the US government out of the 74.2 million from COVAX.
The Philippines has so far administered 153,280,975 Covid-19 doses -- 70,358,616 Filipinos fully vaccinated and 14,861,027 with first booster shots.
"We believe that all of the milestones we have achieved under our national vaccination program are the result of the convergence of efforts of all stakeholders – line agencies, local government units, the private sector, and the international community. Through this strong partnership, we have made the seemingly impossible, possible," Galvez said.
Galvez hopes the Marcos administration will build on the US-Philippine partnership, especially in terms of the Covid-19 pandemic response.
Variava said the partnership to fight Covid-19 will continue as she encouraged getting booster shots as well to strengthen immunity against the virus.
"The United States, the Philippines, and COVAX have been working together for more than a year now to bring safe and effective vaccines to the Philippines and it's great to be back here to have another delivery of vaccines," she said.
Variava thanked Galvez, Department of Health, Inter-Agency Task Force for the Management of Emerging Infectious Diseases, and the Duterte administration for showcasing a "great" bilateral partnership with the US government, especially in fighting the global health crisis.
"We look forward to continuing that work with the incoming Marcos administration because Covid is still with us and we still need to fight," she said. (PNA)