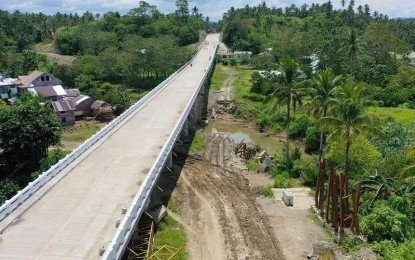 TACLOBAN CITY – The town of Jipapad, Eastern Samar is now connected to the national highway through a newly-completed bridge funded by the central government.
The PHP250-million bridge which started in 2017 and was fully completed this month is a joint project of the Office of the Presidential Adviser on the Peace Process (OPAPP) and the Department of Public Works and Highways (DPWH).
The 240-meter concrete bridge replaces the wooden bridge formerly used by town residents to cross a major river and low-lying area to get to the existing national road from the town center.
OPAPP Eastern Visayas program manager Imelda Bonifacio said in a phone interview on Tuesday that PHP150 million fund for the project was provided by OPAPP through its Payapa at Masaganang Pamayanan (Pamana) project.
The remaining PHP100 million was released by the DPWH.
"Jipapad is one of the pilot areas of Pamana with a road and bridge constructed to connect the geographically isolated town to the main road going to Borongan City and to the Pacific towns of Northern Samar," Bonifacio said.
The government completed the road component in 2017. OPAPP's Pamana funded the PHP110 million in 2014 connecting some villages of the town to a highway in Imelda village of Lapinig town in Northern Samar.
Before the road project, the town can only be accessed through a six-hour motor boat ride from nearby Oras town.
The government pushed for the construction of a road and bridge leading to Jipapad town acting on complaints of residents of total inaccessibility during typhoons and floodings.
During the bridge inauguration on June 24, Mayor Benjamin Ver said they are forever grateful to the national government for the road and bridge construction.
"Finally, after 58 years, a Pamana legacy is here to bring peace and development to Jipapad," Ver said.
"This is big gift from the government to the people of Jipapad that will be celebrating its founding anniversary this July," he added.
With a better road and sturdy bridge, local officials and residents expect the economy of the town would improve with the operation of public transport.
Town officials are also expecting the arrival of more tourists to visit attractions in their town.
The project will also help in the government's campaign to clear Jipapad villages of threats from the New People's Army.
Jipapad is a 5th class town in Eastern Samar with a population of 8,439 settling in 13 villages. (PNA)