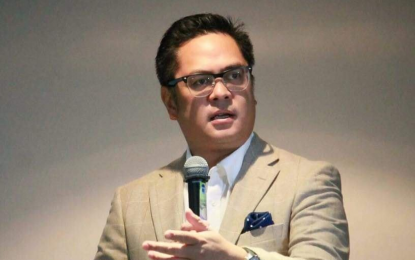 MANILA – Malacañang on Tuesday urged the Senate to file charges against Bureau of Customs (BOC) Commissioner Rey Guerrero and 21 other personalities who were tagged as alleged protectors and smugglers of agricultural products worth hundreds of millions of pesos.
This, after the Senate Committee of the Whole on Monday released a 63-page report of the list of personalities which included officials of the BOC, Department of Agriculture, and several mayors.
The report said the amount of smuggled agri-fishery commodities from 2019 to 2022 was estimated at PHP667.5 million.
"We are one with the Senate in fighting corruption in the bureaucracy," acting presidential spokesperson and Communications Secretary Martin Andanar said in a press statement.
Andanar said filing charges before the Ombudsman would also allow those accused to defend themselves.
"File the necessary charges before the Office of the Ombudsman so officials and persons mentioned in the Senate report could be afforded due process, face their accusers, and have their day in court," he added.
On May 17, Senate President Vicente "Tito" Sotto III, chair of the Committee of the Whole, received a "validated" list that identified customs and agricultural officials allegedly protecting smugglers of agricultural products.
Sotto said he has given President-elect Ferdinand "Bongbong" Marcos Jr. a copy of the list hoping that he would help eradicate corruption in the DA, which Marcos will temporarily head.
Aside from Guerrero, BOC officials identified on the list were Deputy Commissioner for Intelligence Group Raniel Ramiro; Deputy Commissioner Vener Baquiran of the Customs Revenue Collection Monitoring Group; Director Geofrey Tacio of the Customs Intelligence and Investigation Service; and lawyer Yasser Abbas of the Customs Import and Assessment Service.
Also on the list were Agriculture Undersecretary Ariel Cayanan, Bureau of Plant and Industry (BPI) Director George Culaste; Bureau of Fisheries and Aquatic Resources Director Eduardo Gongona; and Laarni Roxas of BPI Plant Quarantine Services Division Region 3, were also identified.
Former mayor and incoming Navotas Rep. Tobias "Toby" Tiangco was tagged as the "smuggling protector" of BFAR products, along with Tuburan, Cebu Mayor Jun Diamante, who was allegedly "playing" in the ports of Davao, Cagayan de Oro, Cebu, and Subic, among other personalities.
Several officials mentioned in the report have denied the allegations.
Outgoing Department of Agriculture Secretary William Dar earlier said agriculture officials tagged in a Senate report as alleged agricultural smugglers or protectors in the country must be given a chance to face their accusers.
"Let the three officials named in the report be given a chance to face their accusers, and defend themselves in the proper forum," he said. (PNA)