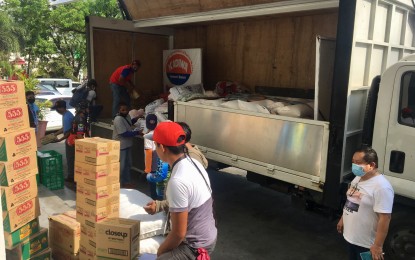 LAOAG CITY – Enhanced Nutribun and the Kadiwa stores may soon be rolling out again in schools and villages around the country as the Marcos family is poised to make a comeback in Malacañang.
While in Laoag City for the continuing distribution of cash assistance to individuals in crisis situation on Tuesday, Senator Ma. Imelda Josefa "Imee" Marcos vowed to revive the food wholesale agency Kadiwa and the distribution of nutritious buns (Nutribun) -- popularized during the term of her father, the late President Ferdinand Marcos Sr. -- amid the continuing oil price hike and a looming global food crisis.
"The price of gas and basic commodities keep on increasing. We need more ayuda (assistance like Nutribun and Kadiwa stores) that directly benefits the people," said Imee, whose younger brother, President-elect Ferdinand "Bongbong" Marcos Jr., is slated to assume the highest post in the land later this week.
In Ilocos Norte, the Kadiwa rolling stores and enhanced Nutribun distribution in schools have been sustained beyond the elder Marcos' presidential tenure.
The Kadiwa rolling stores are manned by capitol employees during their outreach programs in different towns and cities of the province while buns enhanced with carrots and squash along with carabao's milk produced by the Philippine Carabao Center in Batac City are being distributed to school children in the province to help mitigate malnutrition.
At some point, the Ilocos Norte government likewise provided chocolate milk drinks for pregnant women as part of its 90-day supplementary feeding program in partnership with the Philippine Carabao Center and the Department of Science and Technology-assisted Bakers PH, producer of enhanced Nutribun in Laoag City.
For Ilocos Norte residents, the revival of the rolling stores is a great boost among local farmers and poor families to enable them to cope with the rising prices of food.
During the scheduled visits of the Capitol Express (Capex), a program that brings the different frontline services of the Ilocos Norte government to the grassroots, village residents always looked forward to checking what is up for sale at the Kadiwa store, which sells rice, noodles, sugar, sardines, and coffee, as well as vegetables and poultry directly sourced from producers.
"I am thankful to the Marcoses administration. Their plans and programs are helpful to the masses," said Lourie de Leon, a resident of Barangay Maruaya, Piddig town. (PNA)