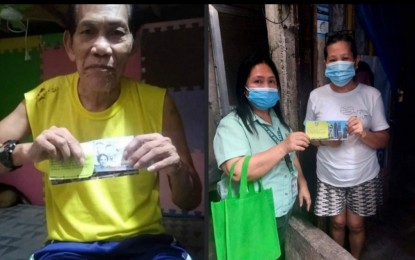 MANILA – A barangay in Pasig City over the weekend started distributing PHP1 million worth of midyear cash gifts to its senior citizens and additional incentives to those turning 90 and 100 years old.
Barangay San Antonio chair Raymond Lising said a total of 976 senior citizens in their barangay will each get a PHP1,000 midyear cash gift.
He said the barangay is eyeing to finish distributing the cash gift before the month ends.
"We have allocated PHP976,000 to fund the midyear cash gift program of our barangay as we currently have 976 registered senior citizens in our barangay," he said.
Lising said the staff of the barangay would personally deliver the cash gifts to ensure the safety of the senior citizens, especially since there is still a pandemic.
"For their safety and convenience, our barangay personnel will deliver the PHP1,000 midyear cash gift right at their doorstep. We want them to be safe from Covid-19," he said.
Lising also announced that the barangay will give a PHP5,000 cash gift to senior citizens who will be turning 90 and 100 years old this year. The additional cash incentive will be released in August.
"Our barangay will also give PHP10,000 to one of our senior citizens who has recently turned 100 years old," he said.
The centenarian of the barangay is Luisa Quintana.
Lising said providing senior citizens with cash gifts is a way for their barangay to show their gratitude to seniors who have contributed to the growth of the community over the years.
"What we are doing is just a small token of appreciation to our senior citizens. They have contributed so much to the growth of the barangay, it is only befitting to thank them by giving them financial aid especially now that we are facing a pandemic," he said.
Last year, the barangay provided a PHP1,000 mid-year cash gift to 819 senior citizens. (PR)