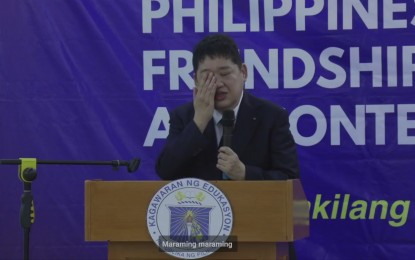 MANILA – The warmth of the long-standing relationship between the Philippines and Japan has once again been highlighted in the Department of Education's (DepEd) 3rd PH-Japan Friendship Art Contest, where Japanese philanthropist Kenjie Mori found himself in tears of delight.
In the hybrid event live-streamed on Facebook, Mori expressed how impressed he was with all the masterpieces done, as well as the warm gesture of the education sector as it played the Japanese national anthem.
"I was so impressed because you kindly sing our national anthem. We never experienced [such] respect, we educated our neighborhood [about] what happened during World War II, we are so impressed, Maraming, maraming salamat, Mabuhay!," he said during his speech.
He said this event, being a gesture of friendship, has been about coming clean to further foster talent and friendship.
"We go through three years of national art contests, and we are at the national contest, no corruption… I am [a] billionaire, so [I have] no need for money, I have no business in the Philippines, I have no family in the Philippines, I have no friends in the Philippines, then we can pursue perfect [art] fair and no corruption," he added.
There are 46 entries from all the regions nationwide, which the learners made under the theme "Dakilang Lahi," and Mori ensured no learner is going home with nothing.
DepEd Undersecretary Diosdado San Antonio said Mori is undeniably an exemplar of someone transforming "youngsters or Filipino learners to passionate lovers of the country," through these activities.
"Among these initiatives is this art contest that provides generous rewards and prizes for our talented Filipino elementary learners in terms of painting, so that we can reflect the understanding of friendship between Philippines and Japan," he said.
Included in the "generous rewards" were PHP50,000 for the second runner-up which was awarded to the "Dakilang Lahi" entry from Region 5; PHP100,000 for the first runner-up, with its "Emulating Greatness" entry from Region IV-A CALABARZON (Cavite, Laguna, Batangas, Rizal, and Quezon); and PHP250,000 each for the two champions with the entries "Friendship" and "Depicting Friendship."
Mori, meanwhile, said he hopes the next administration would continue holding up the solid friendship the two nations have; he also said he's willing to pursue these activities for Filipino learners.
"Please understand this year is the Philippine's hard election, then the government changes, and the secretary changes. I can't promise next year we can have a national art contest. But if the new government requests me to keep a national art contest, I will accept," he said. (PNA)