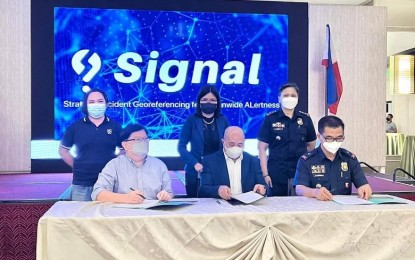 ILOILO CITY – The Department of Science and Technology (DOST) in Western Visayas has developed an online system for real-time reporting of hazards and emergencies to elicit appropriate responses, particularly from government agencies and local government units (LGUs) involved in disaster risk reduction and management (DRRM).
Currently, reporting is being done manually, through text or email.
The Strategic Incident Geo-referencing for Nationwide Alertness (SIGNAL) project of the DOST, which began two to three months ago following a conceptualization with the Philippine National Police (PNP) and the Office of the Civil Defense (OCD), has two components namely the incident reporting and the reporting systems.
"We developed a mobile application to make easier for people on the ground or field personnel to report when there are incidents that should be addressed by the proper agencies or authorized field personnel like LGUs, PNP or even OCD," said DOST Regional Director Engr. Rowen Gelonga, about the incident reporting system component during Tuesday's interview.
The platform features a monitoring dashboard, notification, detailed information, response, resolution, and archives of the reported incident.
There is only one application but there will be individual accounts for the DRRM and field personnel authorized to report.
Gelonga added that the first component is on a test run with the PNP and the OCD until the end of July.
A memorandum of agreement was signed by the three agencies on June 22, 2022 as part of its soft launching.
"It was an initial partnership because we are in a piloting stage. It is very crucial for us at DOST to get feedback from PNP and OCD while we set up the system and on pilot stage until end of July," he said.
The agreement will also be expanded to include other agencies involved in DRRM.
Meantime, the second component is still being developed. Under this component, the incident reports will be processed and converted into reports for submission to the regional and national DRRM councils.
Gelonga said that they hoped to complete the second component within the next three months.
He added that the system was already reconfigured to be ready for other regions. (PNA)