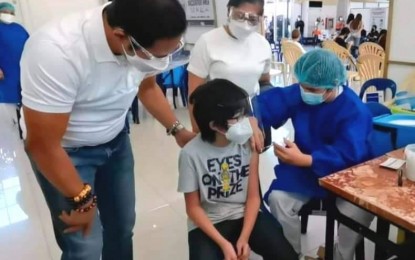 MANILA – Presidential Adviser for Entrepreneurship and Go Negosyo founder Joey Concepcion has welcomed the decision of the Health Technology Assessment Council (HTAC) to give booster shots against coronavirus disease 2019 (Covid-19) to children aged 12 to 17.
"It was very big of them to do so, and I commend them for it. It must not have been an easy thing to do, but with hope, we can move with fewer obstructionist policies and all work together to exit from this pandemic," Concepcion said in a statement Tuesday.
The Department of Health (DOH) this day announced that it is now gearing up for the inoculation of booster shots for non-immunocompromised individuals aged at 12 to 17 years.
The announcement came after Concepcion and the newly formed Advisory Council of Experts (ACE) expressed their disappointment on the delay of booster rollout for this age category, especially with the upcoming in-person classes in August.
HTAC reversed its initial recommendation of giving the booster shots to 12 to 17 years old once the booster inoculation for the adult population already reached 40 to 70 percent.
Concepcion has urged the HTAC to allow giving the second booster shot to aged 50 to 59, as this remains in line with the guidelines of the Centers for Disease Control and Prevention (CDC).
He said in an earlier statement that this age bracket is "economically productive", and their immunity from the virus should be sustained by giving the second booster. (PNA)