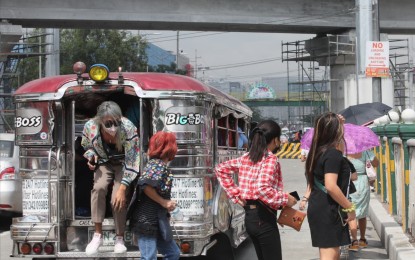 MANILA – Public transport groups are seeking an additional PHP2 public utility jeepney (PUJ) fare hike nationwide, in addition to the approved PHP1 minimum fare hike in four regions.
The petition, dated June 23 and released to the media on Tuesday, was filed by the 1-United Transport Koalisyon (1-UTAK), Pangkalahatang Sanggunian Manila & Suburbs Drivers Association Nationwide Inc. (PASANG MASDA), Alliance of Transport Operators and Drivers Association of the Philippines (ALTODAP) and Alliance of Concerned Transport Organizations (ACTO).
"There clearly is no hindrance pending resolution of the instant petition, for the honorable board to 1) provisionally increase by PHP2, 2) to implement nationwide the PHP1 minimum PUJ fare increase granted on 8 June 2022, and 3) to implement nationwide any further PUJ fare adjustments," the petition read.
The groups said the last time the minimum PUJ fare was increased to PHP10, the price of diesel was PHP48.90 per liter, compared to PHP81.25 per liter based on the Department of Energy (DOE) Oil Price Monitor dated June 8.
"Taking into account the PHP32.35 per liter price increase of diesel as compared to October 2018, the PHP1 provisional increase granted on 8 June 2022 is grossly insufficient, inadequate, and can hardly be felt by PUJ operators," the petition read.
Since the previous fare hike, it said the price of diesel has increased to PHP88.65 per liter based on the DOE Oil Price Monitor dated June 21.
The petition was filed by the groups' counsel Malcolm Law and addressed to the Land Transportation Franchising and Regulatory Board (LTFRB)-Central, the Solicitor General, and the Philippine National Standard.
On June 8, the LTFRB approved the PHP1 increase to the minimum PUJ fare for the first four kilometers, with no increase in succeeding kilometers, in the National Capital Region, Central Luzon, Calabarzon, and Mimaropa. (PNA)