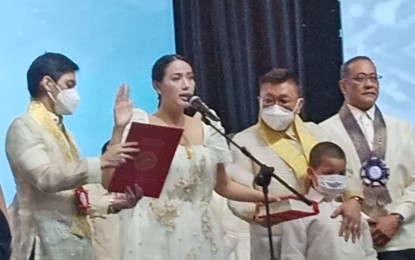 BAYAMBANG, Pangasinan – Newly-elected Mayor Mary Clare Judith Phyllis "Niña" Jose-Quiambao has vowed to also put a focus on the mental health of his constituents amid the effects of the pandemic.
In her speech during her inauguration on Tuesday here, Quiambao said she is alarmed at the rise in suicide cases in this town hence, her plan to address mental health concerns.
"We cannot and must not ignore the effects of the coronavirus disease 2019 pandemic on our mental health. And as an elected official, I want you to feel the love and care of a mother. I want you to feel that you are not alone," she said in addressing her constituents.
Quiambao said a 24/7 hotline and Facebook page catering to those who are in need of help in battling mental health problems will soon be launched.
Also part of the agenda of the first female mayor of the town is to end poverty.
"We will end the cycle of poverty by addressing it from the roots. We will raise strong children, strengthen family ties, and promote health and wellness. Inculcate positive values to the youth, ensure food security, and give better and brighter opportunities for parents to provide for their family's needs," she said.
Quiambao also aims to address teenage pregnancy through the women's center and youth hub where they will train the youth and women in different enterprises.
She announced that a technical-vocational school will soon open, which will offer vocational courses and skills training and other learning opportunities.
"We will make education accessible so that we can ensure that the Bayambangueños will no longer stay in poverty," she added.
She said other priorities during her three-year term are social-cultural development, social protection, agricultural modernization, good governance, economic and infrastructure development, environment protection, and disaster resiliency, among others.
Quiambao, also an actress, won by 41,685 votes in the recent poll and would be replacing her husband, incumbent Mayor Cezar Quiambao. (PNA)