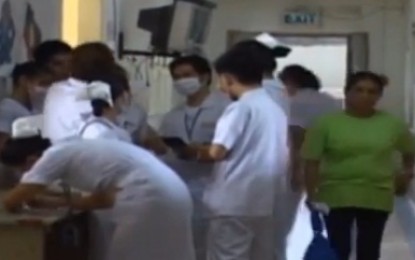 MANILA – A lawmaker on Monday suggested lifting deployment bans for healthcare workers and other in-demand jobs for overseas Filipino workers to help mitigate the impacts of currency depreciation and create opportunities for them to pursue employment overseas.
Albay Rep. Joey Salceda said this should be the first order of business for incoming Labor Secretary Bienvenido Laguesma and Migrant Workers Secretary Susan Ople, stressing that labor mobility is a right and generally good for the economy.
"When the peso is cheap, the easiest logical choice is to earn more foreign currency. There is no easier way to do that, in our case, than to allow OFWs to work wherever they wish. Labor mobility is a human right, after all. And in this case, it's good economics, too," Salceda told reporters in a message.
Last November 2021, the Philippine Overseas Employment Administration (POEA) temporarily suspended the processing and deployment of nurses, as the annual deployment cap of 6,500 has been reached.
Salceda said if the government wants to keep healthcare workers and address understaffing during a health emergency, the best way is "to pay them right."
"I appeal to Secretary Laguesma, who has been my friend since the Estrada administration, and to Secretary Ople. Just lift the deployment bans. It's contrary to sound social policy," he said.
He said some 17,000 to 23,000 healthcare workers leave the country every year, and they earn around PHP150,000 monthly.
This means that the government is foregoing some PHP18 to PHP28 billion in annual income for Filipino families for healthcare workers alone, representing around 4-5 percent of OFW remittances every year as well, he noted.
Salceda said he would also discuss with Bangko Sentral ng Pilipinas Governor Felipe Medalla that the best path to managing the peso's depreciation is "not to artificially support the currency, but to just earn more dollars" through OFWs and exports.
"That way, the depreciation benefits the economy. It's not something that scares me. Depreciation has been national policy in so many of our export-oriented neighbors. OFWs should have the right, barring obvious security and legal reasons, to work wherever they think will help them and their families. It so happens to be good economics, too," he said. (PNA)