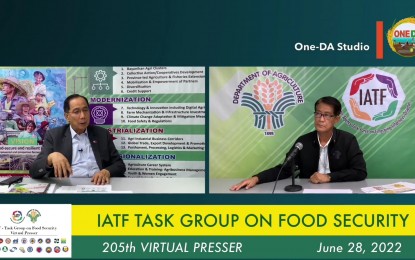 MANILA – Two days before his official "signing-off," Agriculture Secretary William Dar expressed Tuesday his gratitude to outgoing President Rodrigo Duterte for yet another opportunity given to him to head the Department of Agriculture (DA).
In the DA's 205th virtual presser, Dar said he shared the same aspiration that the chief executive has, particularly to secure food sovereignty in the Philippines.
"Ang kuya ninyo or manong willie ninyo ay signing off until June 30, 'yun po ang sign-off date natin. I'd like to thank everyone sa pagkakataong ito na manilbihan uli sa ating bansa… Thanks to President Rodrigo Roa Duterte for the trust and confidence na binalik po ninyo ako for the second time, as Secretary of Agriculture," he said.
(Your older brother, your Manong Willie will be signing off [by] June 30, 'that's our sign-off date. I'd like to thank everyone for this opportunity to serve our country again… Thanks to President Rodrigo Roa Duterte for the trust and confidence that you've brought back, for the second time, as Secretary of Agriculture.)
Dar said the country still managed to withstand challenges, with record harvests of rice, corn, and other high-value crops.
"Ginawa po namin lahat ng makakaya (We did all that we could), in spite of all these problems, Covid-19, African swine fever, natural disasters, and now the Ukraine war, so we came out more resilient, we came more knowledgeable about the big issues, and we have more ideas how to solve these problems," he added.
Moreover, he said the DA is ready to hand over all the "science-based and informed planning" they have to the incoming agriculture chief and President-elect Ferdinand "Bongbong" Marcos Jr.
"We have to do it, with all these data that we have and so informed planning itong ginagawa po natin, ganun dapat ang pananaw sa agrikultura, it is always science-based, technology-based…Handa na tayo na isalin 'yung liderato sa (We are ready to pass the leadership to the) incoming administration, and we welcome the development that the president-elect has already taken the decision to be the secretary of agriculture, that's a good development for Philippine Agriculture, tayo boto tayo diyan (We are in for it)," he said.
These strategies include their transition reports which contain the identified agricultural problems, their causes, and the short-, medium-, and long-term recommendations to resolve them in the country.
Not only that, Dar said they hope Marcos' team will be able to go through with the DA's first-ever long-term plan, particularly the National Agriculture and Fisheries Modernization and Industrialization Plan (NAFMIP) 2021–2030.
Unfinished business
Asked why the DA has not acted on much earlier the plans they are about to turn over to the next administration, Dar said it took them a while to carefully incorporate the inputs of various stakeholders.
"Just right. It took us some time to consult with various stakeholders. Almost one year to resolve. All stakeholders were really included in the formulation of the NAFMIP," he said, saying there is numerous "unfinished business."
"There's many unfinished business here, actually we're just starting so to speak, if what they wanted to see is modern industrializing agriculture, we have sown the seed in this phase," he said.
Among the plans' goals were to ensure the pursuance of urban and peri-urban farming, as well as the establishment of multiple national, regional, provincial, and district food terminal systems nationwide.
"These are the big wholesale markets, where farmers and cooperatives can bring their produce and sell it there, so ito na 'yung mayroong (so it has its) logistical support that will bring them to the big market areas sa (in) Metro Manila," he said.
Dar also mentioned proposed terms to avoid duplication of work in the sector as he reiterated the need to increase the country's rice buffer stock.
"'Yung FTI for one, dapat ibalik sa DA, para kasama siya sa (The FTI for one, should be brought back to the DA, so that it will join the) Food Terminal System, 'yung NFA dapat palakasin para sa (the NFA should strengthen its) buffer stocking, mas malaki (bigger) from the present 7-day buffer stock dapat 30 days, kailangan natin ng (we need a) Bureau of Agri Industry cooperatives development because of farm consolidation, we need collective action, we continue to develop the institutions, marami pa, 'yung regulatory agencies, dapat iisa lang 'yan (so much more, the regulatory agencies, it should be one)," he said.
And while Dar is willing to turn over all these strategies to the next administration upon his end of term, he said he's keeping his doors open for opportunities.
"We are open to any offer, if there are, tayo ay nandyan pa rin na gustong manilbihan sa ating bansa (we are still there with the desire to serve our country), but I'm not seeking for [a position]," he said.
For now, the outgoing Agriculture chief said he is looking forward to having his time off to rest and reflect.
"Siguro (Maybe) right after this I have to go to my farm, sa (in) Sta. Maria Ilocos Sur, and start replanting again, para doon tayo (so that there, we could) mag-rest for a while, you know you need to recharge as well… Magtatanim din ako (I will also plant)," he said. (PNA)