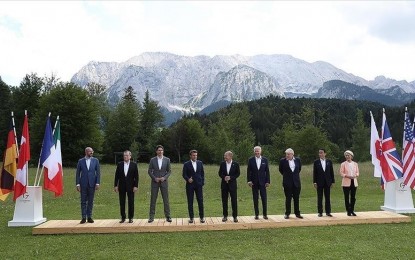 SCHLOSS ELMAU, Germany – On the last day of the Group of Seven summit in Germany, the leaders of the world's largest economies called on countries and companies all around the world to avoid excessive food stockpiles to ease shortage.
"As a short-term relief, we call on those partners with large food stockpiles as well as on the private sector to make food available without distorting the markets," they said in a joint statement.
The G-7 states also committed to an additional USD4.5 billion to protect the most vulnerable from hunger and malnutrition, totaling over USD14 billion in their joint commitment to global food security this year.
The leaders also called on Russia to end its blockade of Ukrainian Black Sea ports "without condition."
"We will step up our efforts to help Ukraine to keep producing agricultural products in view of the next harvest season and commit to supporting Ukrainian farmers in gaining access to essential agricultural inputs and veterinary medicines," they said.
The G-7 countries also said they will step up their efforts to establish alternative routes on the basis of already implemented so-called EU solidarity lanes for humanitarian aid and to ensure that Ukraine can export grain and import essential goods despite the Russian blockade at Black Sea ports.
"We are strongly supporting Ukraine in resuming its agricultural exports to world markets, as well as UN efforts to unlock a safe maritime corridor through the Black Sea," they noted.
"Working with relevant agencies and partners we will collaborate to identify the provenance of grain imports, with the aim of identifying illegally seized Ukrainian products and deterring Russia from continuing its illegal seizures," they said.
Meanwhile, Russian President Vladimir Putin last week said the country will be able to supply 50 million tons of grain to the global market this year.
Speaking at a meeting of BRICS Plus format via video conference from Moscow, Putin said the deliveries will depend on the situation with insurance of vessels, transporting food, bank payments, and other restrictions imposed on Russia.
"Russia does not prevent the export of Ukrainian grain from the territory of this country and is ready to ensure the free passage of grain vessels into international waters," he said.
Moscow reached an understanding on this issue with the UN representatives, the only thing that misses in organizing export is Kyiv's cooperation, Putin added.
Tons of Ukrainian grain are stuck due to the ongoing Russia-Ukraine war, causing global shortages and price hikes. Russia, which is accused of using food as a weapon, says Western sanctions are to blame for the food shortages. (Anadolu)