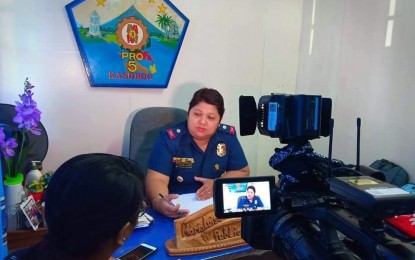 LEGAZPI CITY – The Police Regional Office in Bicol (PRO-5) reported on Wednesday the confiscation of 32 loose firearms, 31 arrests, and one death of a suspect in the one-week Simultaneous Anti-Criminality and Law Enforcement Operations (SACLEO) conducted from June 20 to 27 this year.
Maj. Malu Calubaquib, PRO-5 spokesperson, in an interview, said the one-week intensified drive is also a move to address the problem of the previously reported violence and incidents that involved the use of unlicensed firearms.
"From the given period, the province of Albay has the most numbered of undocumented firearms confiscated with 11, followed by Masbate with 10; Camarines Sur with 5; Camarines Norte and Sorsogon with 2 each while in Catanduanes and Naga City with one each," Calubaquib said.
A total of 134 pieces of ammunition were seized during the operation.
Of those individuals arrested, 11 were from Albay; Masbate-8; Camarines Sur-6; two in Camarines Norte and Sorsogon; one each in Catanduanes and Naga.
Calubaquib noted that 15 of those apprehended were identified as drug personalities.
The lone recorded fatality was identified as Rodrigo Arizala aka Duran, unknown age, of Sitio Laray, Brgy. Tigbao, Milagros in Masbate. Shooting ensued when the suspect, charged with murder, was being served with an arrest warrant on June 24, a police report showed.
Meanwhile, Brig. Gen. Mario Reyes, PRO-5 director, in a statement, said they are aggressively initiating various strategies and measures to deter any form of aggression and crimes perpetrated with the use of loose firearms.
"We call upon the community to not hesitate to give us information that would lead us in addressing criminality in the region. As for our part, we are open and always ready to lend a hand any time of the day," Reyes said. (PNA)