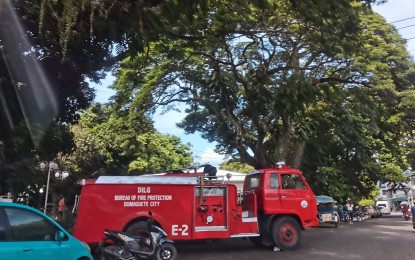 DUMAGUETE CITY – Department of the Interior and Local Government (DILG) Secretary Eduardo Año has ordered the regional office to ensure peace and order at the provincial Capitol on June 30 as newly elected and re-elected officials will assume their posts.
The directive came as two gubernatorial candidates in the May 9 polls are locked in a "power struggle" as to who will be installed as the new provincial chief executive on Thursday.
DILG-7 Regional Director Leocadio Trovela, in an interview with the Philippine News Agency, said Año gave specific instructions on how to deal with the current dispute.
"The guidance of Secretary Año is to maintain peace and order, which is actually the mandate of the PNP (Philippine National Police). I have already talked to our secretary about the situation (in Negros Oriental)," Trovela said in mixed English and Filipino.
Trovela arrived here for a meeting with the provincial DILG, the Philippine National Police, and the Philippine Army on security matters pertaining to the Capitol dispute.
Regarding the gubernatorial dispute, Trovela said it is "the Commission on Elections (Comelec) that has the authority when it comes to election matters".
The dispute involving incumbent Gov. Roel Degamo, who lost to Bayawan City Mayor Pryde Henry Teves in the recent elections, stemmed from a third gubernatorial candidate, Grego Gaudia Degamo, who registered his name in his Certificate of Candidacy as Ruel Degamo.
The incumbent governor wants the votes obtained by the other Degamo to be counted in his favor after the latter was proclaimed by a Comelec division resolution as a nuisance candidate last Dec. 21, 2021.
However, the case is now pending at the Comelec en banc for resolution after a motion for reconsideration was filed by the respondent in the disqualification case.
Teves garnered 301,319 votes versus Degamo's 281,773 votes and was proclaimed by the provincial Comelec on May 10.
Degamo's supporters have been staging peaceful protests in the past days asking the poll body to act immediately on the disqualification case while pushing for him to remain in office.
To avert any possible disturbance on Thursday, provincial police director Col. Germano Mallari said they would be exercising maximum tolerance but also deploy enough personnel. (PNA)