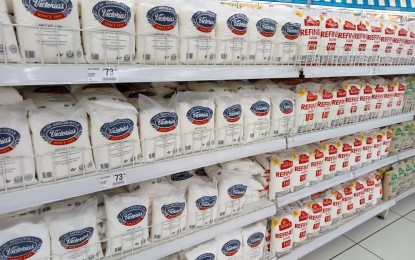 BACOLOD CITY – Negros Occidental Vice Governor Jeffrey Ferrer has sought the immediate reopening of sugar refineries in the province amid reports of sugar shortage that has reportedly led to price hikes in various markets in the country.
As of Wednesday, refined sugar is being sold for as much as PHP73 per kilo, from only PHP71 a month ago, in one of the major supermarkets in this city.
One brand of brown sugar is sold at PHP62 compared to only PHP59 in the previous month.
"There have been reports that low sugar stocks are due to hoarding, but this is an allegation that needs to be verified first," Ferrer said in a statement.
The vice governor said he will consult with the refineries to know if they are willing to open their mills "as soon as possible" to refine raw sugar to address the perceived shortage.
Negros Occidental, the Philippines' top sugar-producing province, hosts the most number of refineries in the country, with five out of 12, based on the Sugar Regulatory (SRA) directory for the crop year 2021 to 2022.
These refineries have been scheduled to stop operating by the second week of June, and are expected to resume mill operations around September or October for the start of a new crop year.
In Metro Manila markets, refined sugar is being sold at PHP85 per kilo while brown and washed sugar at PHP65 per kilo, based on the latest Department of Agriculture (DA) monitoring of prevailing retail prices dated June 28.
Moreover, Ferrer said he is one with the Negrense officials in hoping that the next SRA chief to come from Negros Occidental.
"But I would like to defer that decision to our president-elect and incoming DA (Department of Agriculture) secretary. We will fully support President (Ferdinand) Marcos Jr.'s appointment," he added.
Still, Ferrer said he hopes the President "will appoint someone who can unify the industry".
He also said while waiting for the appointment of other Cabinet members, including those that will serve under the DA, the industry should "hit the ground running and prepare for the coming crop year by ensuring that we will have sufficient sugar supply in the coming months."(PNA)