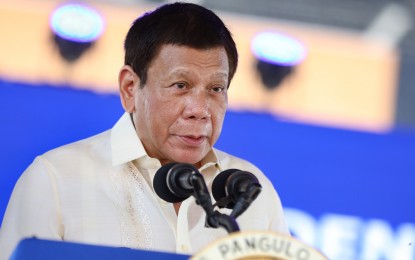 MANILA – Leyte Rep. Martin Romualdez on Wednesday cited outgoing President Rodrigo Roa Duterte for his "outstanding and excellent service" to the country a day before he steps down as chief executive.
"You are loved by patriotic and peace-loving Filipinos. You created the blueprint in making our country safe, secure, and connected. For these reasons alone, you are one of the most accomplished leaders the Philippines has ever had," Romualdez said in his message to Duterte.
Romualdez particularly highlighted the Duterte administration's "Build, Build, Build" program, which ushered in a new golden age for infrastructure development; as well as "no-nonsense" campaign against illegal drugs and criminality, which made it safe again for Filipinos to roam the streets even when it's already dark.
Duterte's legacy, he said, will continue through his daughter, Vice President-elect Sara Duterte, who has proven to be "tough but caring and unselfish leader".
"Together with President-elect Ferdinand "Bongbong" Marcos Jr., they will see to it that President Duterte's efforts exerted in the past six years won't go to waste; instead it will be their guiding light on the exit path from the Covid-19 pandemic and economic crisis," Romualdez said.
Romualdez, who is the top contender for speakership in the 19th Congress, vowed that the House of Representatives will be "unwavering partners" of the new officials of the executive branch "as we face the challenges of the future head-on."
"This is the true essence of unity," Romualdez said. "Again, thank you, Mr. President, for a job well done."
Duterte will step down from office by noon of June 30.
Both Marcos and Sara overwhelmingly won in the last May 9 presidential and vice presidential elections, respectively, under the UniTeam ticket. (PNA)