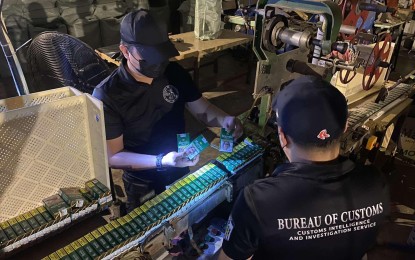 MANILA – Bureau of Customs (BOC) agents seized tobacco products and other cigarette-making paraphernalia worth around PHP256.5 million and arrested four Chinese nationals at a warehouse in Cavite province.
In a statement Wednesday, Customs Commissioner Rey Leonardo Guerrero said the raiding team, composed of personnel from Customs Intelligence and Investigation Service-Manila International Container Port (CIIS-MICP) and the Armed Forces of the Philippines (AFP), found the items during an inspection at a warehouse along Tanza-Trece Martires Road in Barangay De Ocampo, Trece Martires City on Tuesday.
He added that arrested foreign nationals who were not identified will face appropriate legal charges in relation to smuggling.
MICP chief Alvin Enciso said the team found raw materials for making cigarette products.
"The cigarette-making machines there, together with the raw tobacco materials, can produce 50 to 100 cases of cigarettes per day. That's around PHP5 million worth of cigarettes in daily production," he said.
Also found were tobacco filler, filter paper, and paper rod, amounting to PHP105 million; one filter maker; two cigarette makers; and six packing machines worth PHP75 million; four boxes of tax stamps worth PHP18 million each for a total of PHP72 million; and 81 master cases of Marvel cigarettes worth PHP50,000 each for a total of PHP4.05 million.
Finished cigarette products bearing brands such as Marvel, Two Moon, Mighty, among others were also discovered in the warehouse.
Meanwhile, Customs Deputy Commissioner for Intelligence Raniel Ramiro, who oversaw the operation leading to the inspection of the warehouse, said the composite team acted immediately after receiving derogatory information and the Letter of Authority (LOA) and Mission Order (MO) from Guerrero.
"Whether these cigarettes are for export or local distribution, we cannot allow their entrance into the market without ensuring that they followed safety measures and paid the proper taxes. That will create an imbalance as other cigarette companies and distributors are complying with our regulatory bodies," he said.
Assigned Customs examiners, in the presence of members of the CIIS, Enforcement and Security Service (ESS), barangay officials, and representatives of the warehouse, had begun a complete inventory of the warehouse.
Once done with the complete inventory of the regulated goods, Ramiro and CIIS Director Jeoffrey Tacio are set to recommend the issuance of a Warrant of Seizure and Detention (WSD), as well as the filing of appropriate and related charges against the warehouse operator.
The operation was also in coordination with the National Bureau of Investigation Special Action Unit (NBI SAU). (PNA)