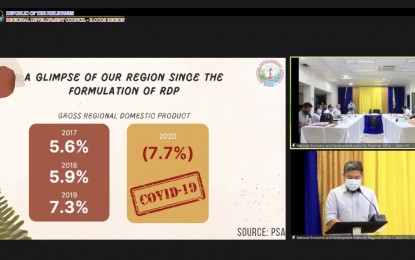 LAOAG CITY – The Department of Public Works and Highways in the Ilocos Region (DPWH-1) said Wednesday that the ongoing "Build, Build, Build" program of the outgoing administration of President Rodrigo Roa Duterte will be sustained in the region by incoming President Ferdinand "Bongbong" Marcos Jr. (BBM).
"A brighter future awaits Region 1 as the economic team of the incoming administration assured to continue smart infrastructure development in the region," said DPWH-1 assistant regional director Emmanuel Diaz during the State of the Region's Development Conference held in San Fernando City, La Union on Wednesday.
In his state of the region address, outgoing Vigan City Mayor Juan Carlo Medina, as chairperson of the Regional Development Council-1, recognized that the government's "Build, Build, Build" program has significantly improved the region's economy amid the pandemic.
"Our economy is now recovering and becoming vibrant once again," said Medina, adding that the region's economic outputs in 2021 grew by around 5 percent while the employment rate in the region also increased.
This major accomplishment, according to the RDC-1 chair, was because of the continued improvement of the industry and services sector with the assistance of various government line agencies.
To date, the DPWH-1 has spent a total of PHP26.24 billion on projects under Duterte's "Build, Build, Build" program.
These include 30 road widening projects, 30 diversion and bypass roads which included the Bauang-San Fernando-San Juan bypass road, San Fernando-San Juan section in La Union that significantly reduced travel time from 30 minutes to 15 minutes, decongesting the Manila North Road along San Fernando City and San Juan in La Union.
In addition, access roads leading to the Currimao seaport in Ilocos Norte and the Sual government port in Pangasinan were also constructed to promote a faster exchange of goods and services with the adjacent regions.
At least 60 access roads leading to tourist destinations and trades, industries, and economic zones were implemented in 2021 and aimed at helping ease the lives of the locals and spur development in Ilocos Norte, Ilocos Sur, La Union, and Pangasinan.
With an incoming president who hails from the region, National Economic Development Authority regional director Nestor Rillion, who is also vice chair of the RDC-1, said Wednesday that the Ilocos Region has a "distinct advantage" in terms of government programs implementation.
From being the country's top migrant-sending region, Rillion hopes that the Ilocos Region will become the Philippines' agribusiness and tourism hub.
Since the implementation of the region's development plan that was formulated in 2017, the RDC reported that its gross regional domestic product for the first two years of implementation performed well with a back-to-back growth of 6 percent.
It further increased by 7 percent in 2019, with services still a major driver of the economy until it sank the deepest at negative 8 percent when the pandemic struck the region in 2020. (PNA)