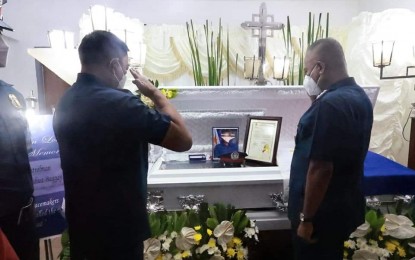 MANILA – The Philippine National Police (PNP) has recognized the bravery of a rookie police officer who died after being severely wounded in an armed encounter with kidnappers in a recent operation in Rizal province.
PNP officer-in-charge, Lt. Gen. Vicente Danao Jr., conferred the Medalya ng Kadakilaan (PNP Heroism Medal) to Pat. Joshua Linggayo, during a visit to his wake on Tuesday.
"The entire PNP family would like to extend our deepest condolences to the family of the deceased police officer. He will surely be remembered for his bravery in fighting criminality even up to his last breath. He was true to his commitment to fulfilling his mission as a law enforcer to serve and protect the people," Danao said in a statement late Wednesday.
Linggayo, a member of the PNP Anti-Kidnapping Group (AKG), was brought to the hospital after sustaining gunshot wounds during the rescue of two kidnap victims in Rizal on June 15. He was admitted to the Intensive Care Unit of a hospital and died on June 27.
Danao also assured due assistance and benefits will be given to Linggayo's family.
"I have this clear mandate to our Anti-Kidnapping Group to sustain our active intelligence gathering and operation against these criminal-minded individuals to suppress any attempt to launch illegal activities. Patrolman Linggayo's sacrifice will not go in vain," said Danao. (PNA)