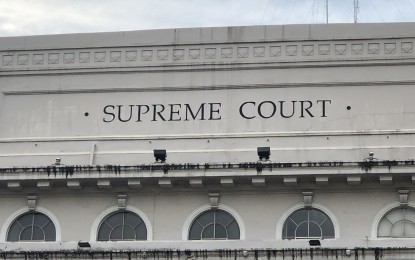 MANILA – The Supreme Court (SC) dismissed a petition filed by a man in Sta. Cruz, Laguna who sued police officers who arrested him during a neighborhood scuffle nine years ago.
In a five-page resolution uploaded on June 14, the high court dismissed the petition filed by Luisito R. Melicio Sr. questioning the decision of the Deputy Ombudsman for the Military and Other Law Enforcement Offices (OMB-Moleo) to clear four police officers of the charges.
Records showed that the Ombudsman cleared the police officers -- Senior Police Officer 2 (SPO2) Antonio Dorano, PO3 Elbert Santos, PO3 Rustand Agustin, and PO2 Ernie Gannaban on charges of maltreatment, arbitrary detention, falsification, perjury, planting of evidence, and incriminating innocent persons.
The police officers arrested Melicio during a commotion on the evening of May 4, 2013, at a fruit stand owned by Ferdinand Abad and the latter's minor daughter, whom Melicio mauled.
Melicio refused to be pacified and shouted at the police officers who were initially prevented from arresting the man by his two sons, Luisito Jr. and Jericho who also traded blows with the responding officers.
After finally being brought to the police station, Melicio yielded white substance suspected to be shabu. He was subsequently charged on May 5, 2013 with malicious mischief, slight physical injuries, resistance, and disobedience to a person in authority, and direct assault aside from drug charges before the Sta Cruz, Laguna prosecutor's office.
He filed his own complaint against the police officers before the Office of the Ombudsman and questioned the validity of his arrest.
In July 2020, the Ombudsman upheld the propriety of the arrest and detention and said the "circumstances justify the conduct of an in flagrante delicto arrest".
In upholding the Ombudsman's ruling, the court said it "does not interfere in the Ombudsman's exercise of discretion in determining probable cause, unless there are compelling reasons" adding the law grants it " a wide latitude of investigatory and prosecutorial powers" free from judicial intervention. (PNA)