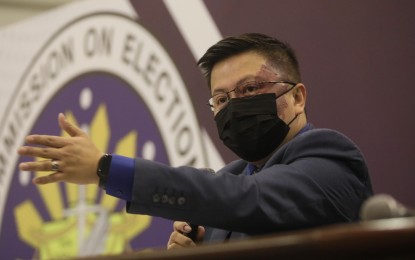 MANILA – The Supreme Court's (SC) decision that junked the two disqualification cases against President-elect Ferdinand "Bongbong" Marcos Jr. proved that the Commission on Elections (Comelec) is committed to upholding the rule of law, an official said on Wednesday.
"Nonetheless, if this is indeed the affirmation by the Highest Court of the decision of the Comelec, then it is a testament to the commitment of this Commission to the rule of law and its faithfulness to our Constitutional mandate, moreso, its fidelity in safeguarding the will of the people in all electoral exercises. Vox Populi, Vox Dei," said acting Comelec spokesperson John Rex Laudiangco in a statement.
Laudiangco, however, said they have yet to receive a copy of the high court's ruling.
The SC on Tuesday upheld the legality of Marcos Jr.'s candidacy after dismissing the disqualification cases, G.R. No. 260374 (Fr. Christian B. Buenafe, et al. v. Commission on Elections, et al.) and G. R. No. 260426 (Bonifacio P. Ilagan, et al. v. Commission on Elections, et al.).
Former poll body chair Saidamen Pangarungan also backed the high court's ruling, saying it has "finally put to rest" questions regarding the eligibility and candidacy of Marcos.
"I personally view the Supreme Court's concurrence to our legal reasoning as another feather in the Comelec's proverbial cap for the 2022 National and Local Elections. I am reminded of the en banc meetings where I have laid out my philosophy as regards the Comelec's quasi-judicial functions: coupling the sense of urgency with the soundest legal interpretation. Because of this, we can now truly say that there are no more impediments to the assumption of President Marcos as President of the Philippines come 30th of June," he added.
Pangarungan also congratulated Marcos who will be holding his inauguration as the 17th President of the country on Thursday.
"I express my warmest congratulations anew to President-elect Marcos. The Comelec has enabled the conduct of a fair and credible democratic exercise. Actual governance will rest on the President's shoulders. I send my sincerest hopes that the President-Elect's leadership will uplift the lives of all Filipinos," he added.
Pangarungan was named by outgoing President Rodrigo Duterte as poll body chief in March.
The Comelec's top post remains vacant after Pangarungan's appointment was bypassed by the Commission on Appointments earlier this month. (PNA)