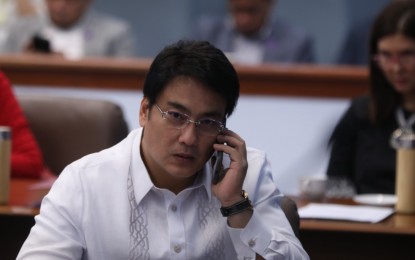 MANILA – Senator Ramon Revilla Jr. on Wednesday said there is neither suppression of press freedom nor an attempt to abridge free speech in the Securities and Exchange Commission's (SEC) decision to uphold its shutdown of Rappler Inc. and Rappler Holdings Corp. (RHC).
Revilla, who chairs the Senate committee on public information and mass media, said SEC's order should be seen as a valid legal decision of the government's regulatory body to uphold the provision of the Constitution to protect the Filipino people.
"The merits of the Decision are based on the violation of Rappler, Inc. and Rappler Holdings Corporation as corporate entities, and not in any way based on its nature as part of the press," Revilla said in a statement.
Revilla noted that the order made by SEC should be respected as it is just doing its mandate being the national government's regulatory agency charged with supervision over the corporate sector, the capital market participants, the securities and investment instruments market, and the protection of the investing public.
"It is within the statutory mandate of SEC to impose sanctions for violation of laws such as PD 1018 (Limiting the Ownership and Management of Mass Media to Citizens of the Philippines), Anti-Dummy Act, and the Foreign Investments Act," Revilla added.
SEC affirmed on Tuesday its earlier decision to revoke the Certificates of Incorporation of Rappler, Inc. and RHC for violating the Foreign Equity Restrictions in Mass Media enshrined in the Constitution.
The decision, signed by SEC Chair Emilio B. Aquino and four other SEC commissioners, declares as void the Philippine Depository Receipts (PDRs) issued to American firm Omidyar Network (ON) by Rappler and RHC since this violated, among others, Section 71.2 of the Securities Regulation Code.
Maria Ressa, Rappler's CEO and founder, said they will appeal the decision.
"We have existing legal remedies all the way up to the highest court of the land. It is business as usual for us since in our view, this is not immediately executory without court approval," Ressa said in a statement.
In December 2016, the SEC received a letter from the Office of the Solicitor General requesting to investigate Rappler's PDRs.
In response to the request, SEC conducted an investigation focusing on the agreement between Rappler and the ON PDRs.
In its decision to revoke Rappler's registration in January 2018, SEC said they saw Rappler Inc. and RHC violating the constitutional and statutory Foreign Equity Restrictions in Mass Media enforceable through laws and rules within the mandate of the Constitution.
Rappler tried to appeal the SEC decision to the Court of Appeals which was denied by the latter in a 72-page decision dated July 26, 2018.
In a press statement, acting presidential spokesperson and Communications Secretary Martin Andanar urged Rappler to avail of legal remedies available.
"Let the law take its course, and allow the Securities and Exchange Commission perform its mandate. Rappler may avail of remedies accorded to it by law," Andanar said. (with reports from Azer N. Parrocha/PNA)