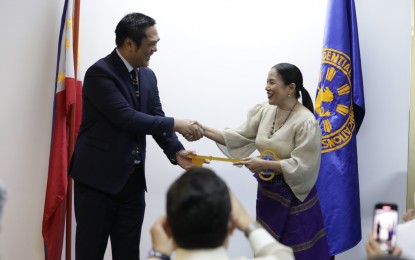 MANILA – A handover ceremony was held at the Diplomatic Lounge of the Times Plaza Building in Manila where outgoing Presidential Communications Operations Office (PCOO) Secretary Martin Andanar turned over pertinent documents of the agency to successor, Secretary Trixie Cruz-Angeles.
In a press release, Andanar said he is confident that Cruz-Angeles will sustain game-changing reforms, especially efforts to further enhance government media.
He again expressed hope that programs and projects he has spearheaded such as the upgrade of facilities of public media assets; the realization of the goals for the Government Communications Academy, the Mindanao Media Hub, and the Visayas Media Hub; strengthened ties with both local and international media likewise a more fruitful cooperation with our allied countries, will be continued.
"To our successors, may you continue to exhibit what real public service is and manifest a sense of determination to serve the common interests of the public. May you continue to support and pursue PCOO advocacies and aspirations of empowering every Filipino through correct and professional information delivery," Andanar was quoted as saying.
He also urged the incoming officials to continue to promote the Freedom of Information, rally behind the protection of media personnel, and push for the legislation of the Media Workers' Welfare Bill.
Cruz-Angeles, for her part, committed to provide "more depth and more dimension" to what PCOO has already achieved.
"Change must be managed. It is inevitable so you must face it. What we're doing now is facing changes. There are some here who I will be seeing more and there are some who will be moving forward. Either way, you're going to be managing some kind of change. But our success is determined by our ability not just to manage them but to adapt with them," she said.
She also revealed other incoming officials who will serve under her leadership, namely Ina Reformina, Greggy Eugenio, Marlon Purificacion, Bobby Ricohermoso, Emerald Ridao, Andrei del Rosario, Atty. Eugene Rodriguez, Dale De Vera, Kitz Barja, Aristotle Aguilar, and Jan Paul Songsong.
Cruz-Angeles previously worked as a social media strategist for PCOO in July 2017 to 2018.
Prior to her appointment, she worked as deputy chairperson of the National Committee on Monuments and Sites.
She was spokesperson of the Integrated Bar of the Philippines, Impeachment Watch Group, and practices law at the Cruz-Angeles Law Office.
Cruz-Angeles also served as legal advisor of the National Commission for Culture and the Arts.
She also hosted the radio program "Karambola" in DWIZ and has a YouTube channel called "Luminous by Trixie Cruz-Angeles & Ahmed Paglinawan," which has more than 85,000 subscribers and 406,000 Facebook fans.
She finished her law degree at the University of the Philippines (UP) in 1997 and is taking an International Relations degree at the University of Minnesota in the US as well as a master's degree in Archaeology, also in UP. (PNA)