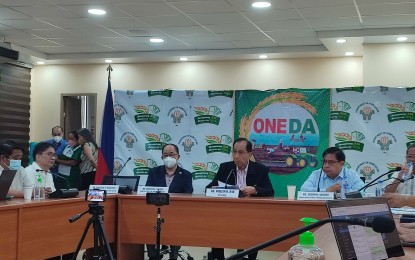 MANILA – Agriculture Secretary William Dar condemned Wednesday all forms of agricultural smuggling and corruption in the country, calling it economic sabotage, just a day before he steps down from office.
In a press conference, Dar said it has been his prime drive to combat graft and corruption since his assumption of duty.
"I condemn in the strongest terms smuggling and all other forms of illegal entry of all agricultural, fishery, and meat products into the country, as these compete directly with the produce of our farmers, fishers, and food producers, depriving them of much-needed livelihood and incomes," he said.
Likewise, the outgoing agriculture chief adamantly denied allegations that he knows the mess within the "systemic problem," as well as the alleged "protection" he has for them.
"Nothing, nothing, I have been the number one that has said no to corruption, no to smuggling," he said in an ambush interview.
In fact, Dar said he is leaving his office "in peace" and with "sincere happiness," firmly attesting that he has done his best to serve.
"I keep a joyful heart and I have peace knowing that I did my very best to lead the sector safely and efficaciously, with the farmers and fisherfolk at the heart of it all, especially during these trying times. I am sincerely happy, genuinely happy to leave a solid foundation for Philippine agriculture in the next 10 years," he said.
Moreover, Dar said they will ensure to turnover initial findings on their administrative investigation to the incoming agricultural head, saying it will be in the hands of President-elect Ferdinand "Bongbong" Marcos Jr.
However, he said these individuals must be granted the "due process" to face allegations, even in the proper venue of the Ombudsman or in the Presidential Anti-Corruption Council (PACC).
The DA's legal team said the Senate's disclosed list of names of people allegedly involved in the agricultural smuggling is "more or less" included in theirs, but not as encompassing as the details on the intelligence report submitted to Senate President Vicente Sotto III.
Digitization
Meanwhile, Dar noted that this issue calls for the shift to digitization, which may bring an end to such corrupt practices.
"It is high time that we shift to a digitized system to fight smuggling, as this promoted transparency at all levels of transactions," he said.
Likewise, he warned the OneDA family to remain vigilant and report any illegal activity or evidence of smuggling of agrifishery products.
Among the names from the department cited in the Senate report were DA Undersecretary Ariel Cayanan, Bureau of Plant Industry Director George Culaste, and Bureau of Fisheries and Aquatic Resources Director Eduardo Gongona.
Gongona earlier released a statement saying his office is "prepared to address all allegations," guaranteeing his participation in "any investigation."
"We hope to be given a fair opportunity to prove DA-BFAR's integrity and reach the truth of its matter," he said. (PNA)