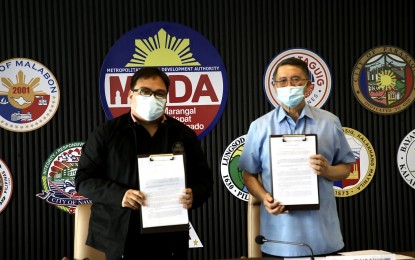 MANILA – The Metropolitan Manila and Development Authority (MMDA) and the Land Transportation Office (LTO) have agreed to share data with each other for the quick transfer of information on errant drivers and vehicles involved in traffic incidents.
MMDA chair Romando Artes and LTO chief Assistant Secretary Edgar Galvante signed a memorandum of agreement (MOA) Tuesday establishing the LTO-MMDA System Interconnectivity Project that aims for a "daily data-sharing" between the MMDA's data systems and the LTO's Land Transport Management System (LTMS).
Artes said the agreement would boost the two agencies' enforcement and traffic apprehensions through a more active and timely data-sharing and will help improve road safety by weeding out errant drivers and vehicles involved in multiple violations and accidents.
"This will make the MMDA's traffic enforcement and apprehension systems more efficient, with real-time access to pertinent LTO records within the LTMS," he said.
The LTMS, an online data repository and services portal, provides data such as driver's licenses, vehicle registrations, and vehicle safety inspections, and is interconnected with third parties such as vehicle sellers, insurance companies, and other government agencies such as the Government Service Insurance System (GSIS) and the Bureau of Customs (BOC).
"This will allow the MMDA to more swiftly determine the ownership and address of vehicle owners caught by its non-contact apprehension system (NCAP), so the parties involved can be informed and their violations settled," he said.
Through the NCAP, the MMDA uses closed-circuit television (CCTV) systems, digital cameras, and other technology to capture videos and images of vehicles that commit traffic violations.
The partnership, he said, would enhance the NCAP by making it possible to send advanced notifications to traffic violators through email and SMS messages.
"This will serve as advance notification to the traffic violators but they will still be receiving a printed copy of the notice for the complete details of the apprehension," he said.
Galvante said the partnership would help the LTO identify drivers with multiple traffic violations resulting in the suspension of their license and mandatory training on road safety and traffic rules.
"Drivers with violations will also be prevented from receiving the new 10-year licenses that are now being granted by the LTO," he said.
Under the MOA, the MMDA has committed to providing the LTO with data from 2016 and new data on a daily basis.
Both government agencies will also share data on alarms for motor vehicles involved in traffic violations, allowing those involved to be quickly informed of their violations and if necessary, their swift apprehension. (PNA)