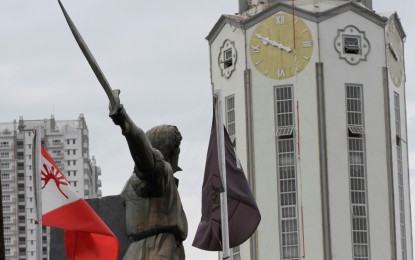 MANILA – Manila Mayor Francisco 'Isko Moreno' Domagoso has inaugurated another legacy that he will leave to the city as he steps down from office on Thursday.
The city's most famous landmark, the Manila City Hall clock tower, which used to be looked up to but feared by many for its horror stories, has now been converted into a museum.
Aside from unexplainable sound coming from the tower as alleged by many, the clock tower has also become a 'mini Smokey Mountain', as Domagoso said.
But now, as it is inaugurated, Domagoso said the city has succeeded once again in protecting one of its heritage.
"In the early time, the people of Manila will look in the tower, ito ang bantayog na tinitingala kasi makikiita nila ang orasan. Now, this is an iconic place for the city and the country, and we're happy to offer it to you today dahil sa ito'y hindi na lang orasan kundi magiging pasyalan din (this is the monument that is looked up because they could see the clock. Now this is an iconic place for the city and the country and we were happy to offer it to you today because it will be not only a clock but also a tourist attraction)," Domagoso said.
He added, "At kung gusto mong mag muni-muni, makita yung 360 degree ng (And if you want to reflect, see the 360 degrees of the) city of Manila, you can avail of that here in the clock tower of Manila City Hall".
The hexagonal tower was built in 1941, right before World War II, is located on the northern side of the irregularly shaped building designed by Antonio Toledo, and is part of the neoclassical buildings of Manila.
It has become one of the structural casualties of the war after it was heavily damaged but surprisingly remained intact, after the bombardment during the battle and subsequent Liberation of Manila in 1945.
Domagoso said other cities in Metro Manila may be economically richer, however, "no city can get near Manila with regard to history and heritage".
Domagoso said he wishes the clock tower will symbolize resilience and hope for all those who see it.
"Ang clock tower na ito'y maging alala na tayo'y maging matatag sa buhay na ang pagkakadapa ay magiging tanda ng karanasan sa pagkakamali sa buhay. What matters most, at the end of the day, bangon, move on, yan sana ang maging simbolo, pag kayo'y naglalalakad sa Lawton, pag nakikita ninyo ang clock tower na ito (I hope this clock tower reminds us to be resilient in life, that stumbling means more lessons in life. What matters most at the end of the day is to rise and move on. I hope this symbolizes that as you look at it everytime you pass by)," he added. (PNA)