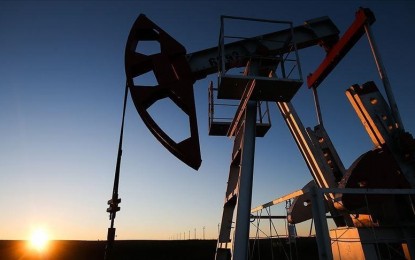 ANKARA – Oil prices dropped on Wednesday as heightened concerns of a recession in big economies outweighed misgivings of tight global supplies due to sanctions on Russia.
International benchmark Brent crude was trading at $113.50 per barrel at 0615 GMT for a 0.26 percent decrease after closing the previous session at $113.80 a barrel.
American benchmark West Texas Intermediate (WTI) was at $111.53 per barrel at the same time for a 0.21 percent fall after the previous session closed at $111.76 a barrel.
The US economy is expected to show growth in 2022, although, at a slower pace, New York Federal Reserve President John Williams said Tuesday.
The Fed's aggressive tightening cycle has raised fears of a push towards a recession on the American economy.
China's declining real estate market and its coronavirus disease 2019 (Covid-19) measures are also triggering fears of a decline in economic activity.
On the demand side, additional output from the Organization of Petroleum Exporting Countries (OPEC) and the OPEC+ group could alleviate concerns of sparse oil production.
Saudi Arabia and the UAE, the biggest producers of the group, may have spare capacity to account for lost Russian supply.
Investors will not focus on Thursday's OPEC+ meeting to determine oil production for the summer months.
Meanwhile, oil prices saw an incline this week as leaders of the G7 countries agreed to explore a price cap on Russian oil to curtail Moscow's revenues while at the same time allowing more oil supply to reach the global market.
However, price falls are poised to have limits due to the possibility of supply disruptions from sanctions in Russia, hurricanes in the US, and political unrest in Ecuador and Libya. (Anadolu)