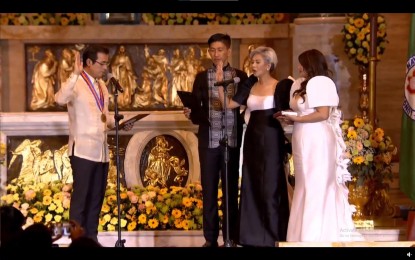 MANILA – As she takes the helm to become the first woman mayor of the City of Manila, Honey Lacuna-Pangan has assured Manilenyos that she is prepared to lead the nation's capital.
During her inauguration on Wednesday at the Manila Cathedral, she vowed to continue all the projects and programs taken up by his predecessor, Francisco 'Isko Moreno' Domagoso.
"We will continue the construction of complete facilities for the health, order, peace, prosperity, and security of all the people of Manila," she said in Filipino.
"Expect continued delivery of quality services, care for our grandparents, the disabled, single parents, students, and teachers in public schools, the police, government employees, and ordinary citizens," she added.
Lacuna-Pangan thanked those who unceasingly supported her, most especially her father, former Manila Vice Mayor Danny Lacuna, who was present at the event.
Lacuna-Pangan said she strived and worked hard to achieve his father's dream.
"Most of all, this is for you, promise, I will make you very proud of me. Because of you, I tried to put an end to the old saying that the Lacuna's are only for vice mayors. Hopefully, at least for a moment, even just today, it will be clear in your mind that you now have a daughter who has become a mayor," she said.
Lacuna-Pangan thanked Domagoso for giving her the opportunity to shine on her own, especially as a doctor, amid the Covid-19 pandemic response of the city government.
"He has prepared me well, to be able to continue the realization of all the programs we have laid out for our beloved city. Mayor Isko Moreno Domagoso, thank you very much. Rest assured, I won't let you down, don't abandon me yet, just stay on the side," she added. (PNA)