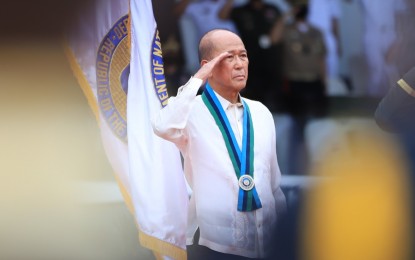 MANILA – The Philippine Army (PA) has expressed its appreciation to outgoing Department of National Defense (DND) Secretary Delfin Lorenzana for his support which allowed the service to acquire big-ticket weapons and platforms during his six-year term.
Among the game-changer equipment acquired under the AFP Modernization Program's Horizon 2 during the term of the outgoing defense chief include the 15 brand-new armored mortar carriers that are now part of the newly-reactivated 1st Tank Battalion of the Armor Division and the 12 Autonomous Truck Mounted Howitzer System (ATMOS) 155mm/52 self-propelled howitzers that are now handled by the 10th Field Artillery Battalion (155-SP) of the Artillery Regiment.
These weapon systems were sourced by the PA from Israeli defense company Elbit Systems.
"Big-ticket defense assets that will soon be delivered to the Army include the Multiple-Launch Rocket System, Sabrah ASCOD light tanks, and Pandur 8x8 wheeled light tanks, PA spokesperson Col. Xerxes Trinidad said in a statement late Wednesday.
The AMCs were also delivered to the PA last December and were acquired under the Army's mounted mortar acquisition project.
"The new AMCs are part of the PA's modernization project that will capacitate the country's land force's credible defense posture from various threats, local and international," Trinidad earlier said.
The Cardom 120mm recoil mortar system mounted on the M125A2 AMC is an autonomous, computerized system that has a range of 7,000 meters and a maximum fire rate of 16 rounds per minute operated by four crewmen.
The AMCs with MMS are used by the US Army, Israeli Defense Force, and North Atlantic Treaty Organization (NATO) countries.
Meanwhile, the ATMOS 155mm/52 howitzer system is a "shoot-and-scoot" weapon that can be rapidly deployed in rugged terrain and is equipped with an "inertial navigation system" (INS)-based gun-laying method and an automatic loader.
The Army received these ATMOS howitzer units in December 2021. The self-propelled artillery pieces are worth PHP2.4 billion and would augment the existing 155mm towed-howitzers being operated by the Army Artillery Regiment.
PA commander, Lt. Gen. Romeo Brawner Jr., earlier expressed the appreciation of the 110,000-strong Army for Lorenzana's unstinted support.
"On behalf of the more than 110,000-strong Philippine Army, Secretary Lorenzana, Sir, we thank you for your unparalleled service to our nation. Indeed, your hallmark of leadership in the military and in government service will definitely serve as our standard of stewardship for our esteemed organization," he added. (PNA)