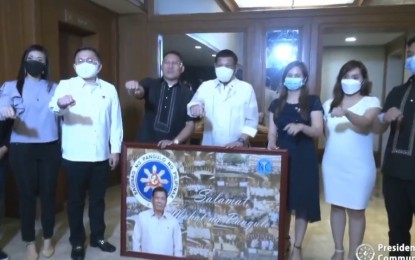 MANILA – Outgoing President Rodrigo R. Duterte spent his last night as the country's Chief Executive attending a thanksgiving dinner in Makati City organized by the Partido Demokratiko Pilipino–Lakas ng Bayan (PDP-Laban), which he chairs.
In a press release, PDP-Laban said party members expressed their congratulations to Duterte on his success in leadership and good governance in the country, especially during the severe crisis caused by the Covid-19 pandemic.
Officials and members also outlined the programs Duterte will leave to the next administration such as the fight against corruption, drugs, and crime, 'Build, Build, Build', peace, and tranquility in Mindanao and throughout the country.
The PDP Laban leadership also expressed full support and solidarity to the administration of President-elect Ferdinand "Bongbong" Romualdez Marcos, Jr. and Vice-President-elect Sara Duterte.
"The victory of President Bongbong Marcos is also the victory of every Filipino," the statement read.
In March, the PDP-Laban faction of Energy Secretary Alfonso Cusi endorsed Marcos' presidential bid.
The PDP-Laban party, which has not fielded a presidential candidate, announced it will back Marcos, and Sara.
However, Duterte has many times insisted that he will remain neutral and not endorse a candidate.
Duterte earlier said the country's next leader should be "compassionate and decisive" and someone who is a "lawyer".
In a public address earlier this month, he urged Filipinos to "come to terms with reality" and support the country's new leaders.
"President-elect Marcos would need the cooperation and help of everybody. We must give it to him," he said.
He also assured the public of a "smooth" and "peaceful" transition of power to his successor. (PNA)