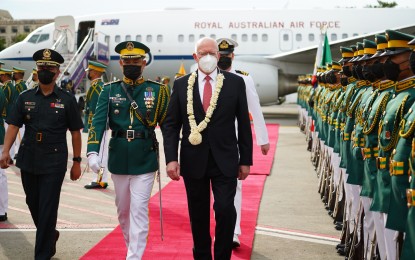 MANILA – The Australian Governor-General is set to meet with newly inaugurated President Ferdinand "Bongbong" Marcos Jr. on Thursday to renew the "formal diplomatic relationship" between Australia and the Philippines.
In a statement, His Excellency General the Honourable, David Hurley AC DSC (Retd) said his visit to the country and meeting with Marcos will highlight the "importance Australia places on its long-standing relationship with the Philippines, including the cooperation towards a Strategic Partnership."
The two countries marked 75 years of formal diplomatic relationships in 2021.
"Australia and the Philippines' strong and enduring friendship is underpinned by the defense and security partnership, strong people-to-people links, trade and investment, and over 50 years of development cooperation," Hurley said.
Hurley and her wife Linda, along with members of the Filipino-Australian community in Manila, are expected to be in Malacañang Palace after Marcos' inauguration ceremony at the National Museum of Fine Arts in Manila
The Australian government is set to pledge an estimated AUD78.5 million (PHP2.98 billion) as development assistance to the Philippines from 2022 to 2023. (PNA)