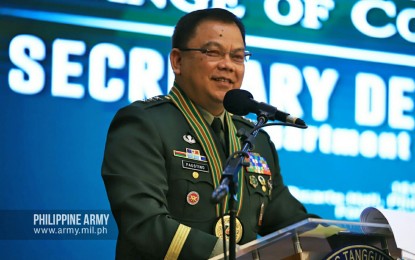 MANILA – Incoming Department of National Defense (DND) officer-in-charge (OIC), Jose Faustino Jr. has tested positive for coronavirus disease 2019 (Covid-19).
DND spokesperson Arsenio Andolong made the announcement on Thursday afternoon.
Andolong said Faustino will physically report for work after complying with the prescribed quarantine period.
"He is fully vaccinated and boostered, and is asymptomatic. He will temporarily perform his duties while in isolation," he said.
Faustino, Andolong said, came into close contact with a Covid-19 positive individual during one of his many engagements and consultations prior to his assumption as the agency's OIC.
"Contact tracing procedures are being undertaken. The transition ceremony will be conducted virtually and can be viewed live tomorrow, 1 July, starting at 9:30 A.M. on <https://www.facebook.com/DNDPHL>," he added.
Faustino, a retired Armed Forces of the Philippines (AFP) chief-of-staff, will assume office as Defense Secretary on November 13, after the one-year appointment ban on retired military officials.
He took over the AFP leadership from Gen. Cirilito Sobejana who retired from military service on July 31, 2021.
He retired as AFP chief after reaching the mandatory retirement age of 56 on November 12 of the same year.
Prior to his assumption as the 56th AFP chief-of-staff, Faustino was the head of the Joint Task Force Mindanao and has also served as the acting commanding general of the Philippine Army.
He is a member of the Philippine Military Academy Class of 1988. (PNA)