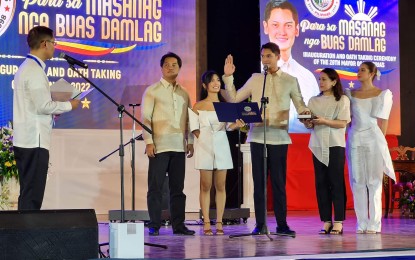 BACOLOD CITY – Neophyte Javier Miguel Benitez has vowed to provide a responsive and transparent government service and lead by example as he assumes the post as the youngest-ever mayor of Victorias City, Negros Occidental on Thursday.
The 27-year-old son of Alfredo Abelardo Benitez, the new mayor of Bacolod City, took his oath before his uncle, reelected Third District Representative Jose Francisco Benitez, in ceremonies held at the Victorias City Sports and Amusement Center on Wednesday afternoon.
"I will be fair and just. I will lead by example. I will not demand what I will not do myself. I will set high expectation for each performance as I commit the same for myself," the young mayor said.
He assured the people of Victorias that he will value their trust and will not let them down.
"I offer myself with full knowledge of the responsibilities that await me as a mayor. My youth will be my strength rather than my weakness," said the former actor, who is in a relationship with television and movie actress Sue Ramirez.
A graduate of Political Science at the Santa Clara University in California, USA, Benitez said Victorias has been his childhood home, outside of Manila. When his father ran and served as congressman of the third district, he saw how it is like to lead and was inspired to join public service.
"During the time of the pandemic, I was able to reflect. I realized my purpose in life. I want to help others even in a small way, to alleviate their suffering," he said.
Benitez said he will pursue an agenda that he introduced during the campaign, focusing on dignified human settlement, disaster resilience, the revival of the local economy, education, health, and responsive and transparent government service.
Acknowledging that he does not have all the solutions to the problems faced by the northern Negros city, he asked for help and welcomed suggestions from the various sectors on how to strengthen the delivery of government services to his constituents. (PNA)