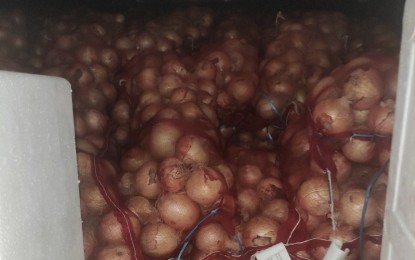 MANILA – The Bureau of Customs (BOC) on Thursday reported the seizure of PHP6 million worth of misdeclared fresh white onions at the Manila International Container Port (MICP).
Commissioner Rey Leonardo Guerrero said the shipment inside three 40-foot containers that arrived from China were apprehended on Tuesday.
The shipments consigned to Silverpop Dry Goods Trading were initially declared as steamed buns from China.
Guerrero, who had spoken against attempts to besmirch the reputation of the agency and its officials, said the operation is proof of the hard work and sacrifice by the BOC.
"We are confident of the kind of work that we do, especially when it comes to stopping the smuggling of agricultural products. We take it very seriously. That is why we take an exception to allegations that the agency is doing less than stellar performance in ending agricultural smuggling," he said in a statement.
Upon learning of the presence of the smuggled agricultural products, the Customs Intelligence and Investigation Service (CIIS) at MICP immediately asked for the issuance of alert order/pre-lodgement control orders (PLCOs).
MICP District Collector Romeo Allan Rosales issued the PLCOs on June 28 and will issue a warrant of seizure and detention (WSD) against the consignee.
The filing of smuggling cases and other appropriate legal cases is expected for the violation of importation laws and regulations.
Customs Deputy Commissioner for Intelligence Raniel Ramiro said his office was alerted by "derogatory information" that the shipments from the said consignee contain agricultural products and misdeclared and undeclared items.
"We continue to man our borders against illegal shipments of agricultural products. This is a continuous effort and we will not rest until we put an end to these attempts of running through our importation laws," he added. (PNA)