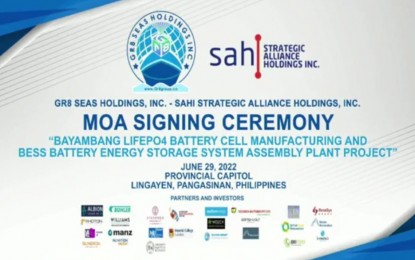 BAYAMBANG, Pangasinan – A $40-million battery manufacturing plant will soon be established in this town and is expected to provide livelihood and boost the town's economy.
The Strategic Alliance Holdings Incorporated, a company based in this town, has signed a memorandum of agreement (MOA) with US-based GR8 Sea Holdings Inc/GR8 Eco Solutions Corporation for the establishment of a battery cell manufacturing plant.
Based on the MOA obtained on Thursday, the two companies will put up commercial facilities on a five-hectare land for the manufacturing and assembly of battery energy storage systems.
The term of the agreement will run for one year from the date of the MOA signing.
In her speech during her inaugural ceremony, newly-elected Bayambang town Mayor Mary Clare Judith Phyllis Quiambao said the municipal government welcomes the investors.
"Dahil kapag maraming negosyo, maraming trabahao at kapag maraming trabaho, maraming oportunidad sa progreso (Because if there are a lot of businesses, there will be more employment. And if there are a lot of employment, then there will be more opportunities for progress)," she said.
Meanwhile, newly-elected Governor Ramon Guico III said inviting more investors in the province, as well as creating more economic zones, is part of his agenda during his first term.
"We will open doors for domestic and foreign trade and establish trade agreements," he said.
A special office for investment and promotion of the province taking into consideration the best practices in doing business such as the presence of one-stop-shop business centers, shunning of red tape, and possible granting of tax incentives and benefits will also be created, he added.
The MOA was signed by the two companies' representatives during the inaugural of Guico on Wednesday. (PNA)