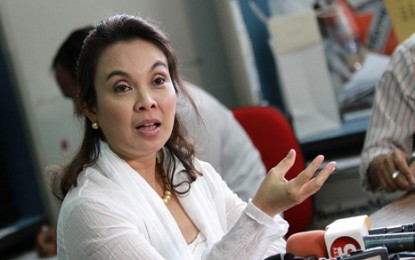 MANILA – On her last day as Lone district Representative of Antique, Deputy Speaker Loren Legarda expressed her pleasure in serving the Filipino people as a member of the House of Representatives over the past three years.
"I am grateful to have served the Filipino people, most especially my fellow Antiqueños, alongside my honorable and hardworking colleagues whose hearts I have witnessed to care for visions of the best for our countrymen and empowering our people," she said in a news release on Thursday.
During her stint at the Lower House, Legarda has pushed for programs and services that brought progress in Antique and helped uplift the lives of thousands of Antiqueños.
Through her unwavering efforts, 82 new classrooms in 12 elementary and high schools in the province were constructed through the Basic Education Facilities Fund, while 11 Department of Education schools were given the first batch of Information Technology packages.
Free Wi-fi internet connections were likewise provided to 21 barangays in Antique, aided thousands of students who were facing challenges during the remote learning system amid the Covid-19 pandemic, while 23,293 college students from 2017 and 2020 were granted scholarships through the Commission on Higher Education's Tulong Dunong Program.
Legarda has also helped provide employment assistance to 85,568 Antiqueños through the Department of Labor and Employment's (DOLE) Tulong Pangkabuhayan sa Ating Disadvantaged/Displaced Workers programs; 9,377 interns were employed under DOLE's Government Internship Program, and capacity skills development programs were conducted in partnership with the Technical Education and Skills Development Authority.
As an advocate of micro, small and medium enterprises (MSMEs), Legarda helped the small business owners and communities start their livelihood projects through various programs of the Department of Social Welfare and Development.
Legarda has helped fund the establishment of the weaving and processing center/cotton processing in Barangay Padang, Patnongon, and improved the coffee processing center of Bulalacao Calooy Tulala Farmers Association in partnership with the Department of Trade and Industry.
Around 115 Barangay Health stations and four units of ambulances were provided for the people of Antique to ensure access to various health services. A total of 316,711 doses of vaccines were likewise allocated to the province as of June 25 this year.
Legarda also helped the carabao raisers through various agricultural programs; supported the construction of farm-to-market roads to enhance rural-urban connectivity; and provided funding for the rehabilitation of the Balay Nga Bato, the Old Capitol Building, and the plazas in the 18 municipalities in Antique to preserve its unique culture and heritage.
Under her leadership at the Lower House, Legarda has co-authored numerous bills such as Republic Act 11861 or the Expanded Solo Parents Welfare Act; RA 11712 or the Public Health Emergency Benefits and Allowances for Health Care Workers Act; and RA 11635 or An Act Amending Section 27(B) of the National Internal Revenue Code of 1997, among other measures that Legarda helped craft.
"In this regard, I would like to extend my profound thanks to my colleagues at the House of Representatives, who are indeed excellent public servants, for all your unwavering support in order for these laws to be enacted," she said.
On July 1, Legarda will return to the Senate as a four-time senator.
During her inauguration on June 27 in Antique, she said her plans to create policies that will uplift every Filipino's life by providing various social services.
"Together, we will bring our learnings from the pandemic to the Senate and tell them how our province – what was once the poorest province in the Panay Island – rose to the challenge and faced the pandemic head-on. We will share our story of recovery, not just from Covid-19 but from the decades of negligence, and let this be the source of our country's future policies," Legarda said. (PR)