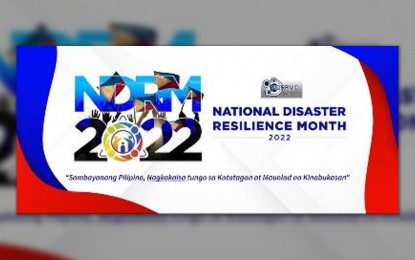 MANILA – The people must unite and work hand in hand towards the common goal of achieving disaster resilience and fostering development.
The National Disaster Risk Reduction Management Council (NDRRMC) made this call on Friday, which marks the start of the observance of the "National Disaster Resilience Month" (NDRM).
"The NDRRMC, through the Office of Civil Defense (OCD), again leads the month-long celebration of NDRM starting from July 1 to 29, 2022 with the theme: 'Sambayanang Pilipino, nagkakaisa tungo sa katatagan at maunlad na kinabukasan.' which seeks to advocate unity towards resilience and sustainable development," the agency said.
The OCD earlier emphasized the importance of a united effort in the attainment of making communities ready and safe. It added that cooperation among the public will do a great deal in helping the government achieve its goal of creating safer communities.
Opening ceremonies kicked off on Friday via live streaming on Civil Defense PH and NDRRMC social media pages to mark the official start of the observance.
"Similar to last year, a webinar series dubbed 'Resilience Hours' will be conducted every Thursday of the month. Topics to be discussed will cover the four thematic areas of DRRM: Disaster Prevention and Mitigation; Preparedness; Response; and Rehabilitation and Recovery," the NDRRMC added.
As part of the pre-activities of NDRM, the NDRRMC also launched various contests to encourage public participation in the observance. Submissions for tagline making contest and music composition contest ran from June 13 to 30.
Meanwhile, the submission for the Resilience Video contest will be held from July 1 to 20 in three categories -- What's in your Go Bag?; A Family that Prepares Together is Safe Together; and Para Kanino Ka Bumabangon?"
The NDRRMC is once again calling on the public to participate in all NDRM-related activities as well as in the programs and activities of other NDRRMC-member agencies that seek to strengthen the resilience of the communities," the agency said.
Regional DRRMCs, Local DRRMCs, and Barangay Committee are tasked to implement activities and programs relative to NDRM.
NDRRMC member agencies are also set to implement their respective activities for NDRM.
Executive Order No. 29 signed by former president Rodrigo Duterte on June 28, 2017, mandates the observance of NDRM "throughout the country through the conduct of activities relative to the building of disaster resilience covering the four thematic areas." (PNA)