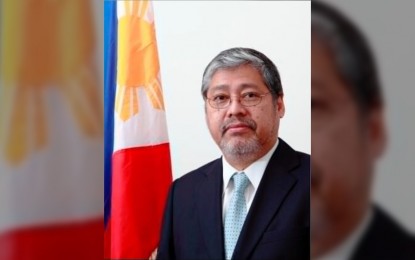 MANILA – President Ferdinand "Bongbong" Marcos Jr. has appointed seasoned career diplomat Enrique Manalo as the new head of the Department of Foreign Affairs (DFA), Malacañang announced on Friday.
Press Secretary Rose Beatrix "Trixie" Cruz-Angeles confirmed Manalo's appointment in a text message sent to Palace reporters.
"Yes, it is confirmed. But he asked for a few days to wind up affairs in his previous post," Cruz-Angeles said.
Prior to his new appointment, Manalo was the Philippine Permanent Representative to the United Nations (UN) in New York.
Manalo also served as acting Foreign Affairs secretary from March 9 to May 17, 2017, after the ad interim appointment of the late DFA chief Perfecto Yasay Jr. was rejected by the Commission on Appointments.
Manalo's career in the Philippine Foreign Service spans over four decades since he joined the DFA in 1979.
He served as Foreign Affairs Undersecretary for Policy from 2007 to 2010 and from 2016 to 2020.
He was also the Philippine Ambassador to the United Kingdom from 2011 to 2016; Non-Resident Philippine Ambassador to Ireland from 2013 to 2016; Philippine Ambassador to Belgium and Luxembourg, and Head of the Philippine Mission to the European Union from 2010 to 2011.
He also served as the Philippine Ambassador and Permanent Representative to the Philippine Mission to the UN and Other International Organizations in Geneva, Switzerland from 2003 to 2007.
Manalo began his career in the Philippine Foreign Service as the Special Assistant to the Office of the Deputy Minister from 1979 to 1981.
After completing his first tour of duty at the Philippine Mission to the UN in Geneva, Switzerland, he served as the Special Assistant to the First Undersecretary of the DFA.
He also served as the Assistant Secretary for European Affairs after his stint as the Minister Counsellor of the Philippine Mission to the UN in New York from 1998 to 2000. (PNA)