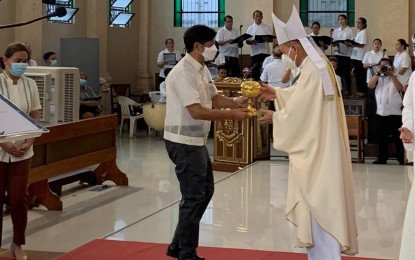 MANILA – President Ferdinand "Bongbong" Marcos Jr. on Friday morning attended a Holy Mass, as he sought divine guidance now that he serves his fellow Filipinos as the 17th Philippine president.
Marcos attended the mass officiated by Manila Archbishop Jose Cardinal Advincula at the San Miguel Parish Church inside the Malacañang compound, the Office of the President (OP) said in a press statement.
"Wanting to seek Divine Guidance, President Ferdinand 'Bongbong' Marcos Jr. attended a Mass on Friday morning before going to the Malacañang Palace to officially start his first day in office as the 17th President of the Republic of the Philippines," the Palace said.
Vice President Sara Z. Duterte, Executive Secretary Vic Rodriguez, Special Assistant to the President Anton Lagdameo, Presidential Management Staff Chief Naida Angping and Solicitor General Menardo Guevarra were also present during the mass.
Secretaries Erwin Tulfo (Social Welfare), Jesus Crispin Remulla (Justice), Benjamin "Benhur" Abalos Jr. (Local Government), Christina Frasco (Tourism), Susan Ople (Migrant Workers), Bienvenido Laguesma (Labor), Jaime Bautista (Transportation), and Conrado Estrella III (Agrarian Reform) also attended the mass.
'Listening, life-giving leadership'
Advincula, in his homily, urged Marcos, as well as Duterte, to emulate the two traits of the Good Shepherd, which include the "listening leadership and life-giving leadership," the Malacañang said.
"Jesus Christ is also a life-giving shepherd, a life-giving leader. He desires his flock to gain abundance and fullness of life, and he does this by laying down his own life for his sheep. He came not to be served, but to serve," Advincula said, as quoted by the OP.
Advincula also called on the top officials under the Marcos administration to serve not just particular individuals or groups but the entire Filipino people.
He asked them to attend to the needs of the Filipinos, especially those who belong to the poor and marginalized sectors.
"As we meet in our offices and conference halls asking questions in our heads, may we be mindful of our people who ask questions in their empty stomachs…May we be leaders who listen to our people, especially the poor and marginalized," Advincula said. "Guided by truth, urged by charity, and passionate for justice and peace, may you spend yourselves in the service of the common good."
Advincula also appealed to the public to throw support behind Marcos, Duterte, and all the newly-elected officials of the country.
He also asked them to pray for the new set of leaders in the country for the betterment of the nation.
Marcos won the presidential elections after receiving 31,629,783 votes or 58.77 percent of the votes cast in the May 9 national and local elections.
In his inaugural address on Thursday, Marcos vowed to fulfill his mandate to serve and protect the country.
"This is a historic moment for us all," he said. "You picked me to be your servant to enable changes to benefit all. I fully understand the gravity of the responsibility that you have put on my shoulders. I do not take it lightly, but I am ready for the task." (PNA)