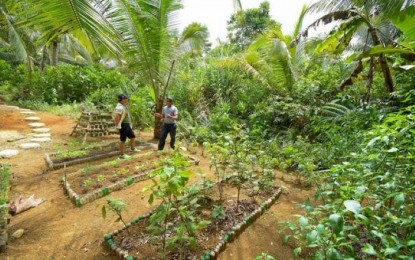 TACLOBAN CITY – The Department of Environment and Natural Resources (DENR)is eyeing to complete by 2025 the survey of all occupants within the Samar Island Natural Park (SINP) as part of its biodiversity conservation efforts inside the protected area.
Angelito Villanueva, Samar provincial environment and natural resources officer, said on Friday the five-year survey and registration of protected area occupants within SINP, has already covered 40 percent of the population.
The project is a partnership of DENR and Philippine Statistics Authority (PSA) and seeks to establish the actual number of male and female household heads recognized as tenured migrants.
A household head will be considered a "tenured migrant" if proven to have occupied a portion of the protected area for five years before its designation as a protected area and is solely dependent on its resources for living.
Villanueva said the results of the survey will also provide the DENR with basic data as the basis for establishing management and buffer zones and for the preparation of programs and future interventions within the area, including the identification of alternative livelihood opportunities for the occupants.
In 2010, a study found 70,000 upland dwellers in the SINP area with an annual growth rate of 1.5 percent.
Growing population and high poverty incidence remain a big threat to SINP, Villanueva said in an interview.
"If there are no economic activities in urban, people are dependent on natural resources. That would result to illegal land conversion. Timber poaching is very common because of impoverished situation. They do it because of lack of source of income," Villanueva told the Philippine News Agency (PNA).
PSA data shows that Samar provinces posted a high proportion of the population suffering from poverty at 31 percent in both Northern Samar and Samar, and 43 percent in Eastern Samar.
In the biological resource assessment (BRA) conducted in 2006 by the Key Biodiversity Areas, it was found that 53 percent of the plant species are endemic, of which 35 species are considered endangered.
About 330 species of terrestrial vertebrates belonging to 86 families were recorded in the survey.
The BRA also noted that there's a rampant collection of wildlife in the sites covered by the survey.
In the eastern part of the island alone, an estimated 3,600 parrots were caught and sold as pets every year.
The SINP is a Protected Area established under Presidential Proclamation 442 by former president Gloria Macapagal-Arroyo on April 13, 2003.
The park covers 333,000 hectares of forest and an additional 125,400 buffer zone encompassing 36 municipalities and one city.
It is one of the 94 sites declared as protected areas under Republic Act No. 11038, known as the Expanded National Integrated Protected Area Systems Act of 2018.
The law provides the state policy "to secure for the Filipino people of present and future generations the perpetual existence of all native plants and animals through the establishment of a comprehensive system of integrated Protected Areas." (PNA)