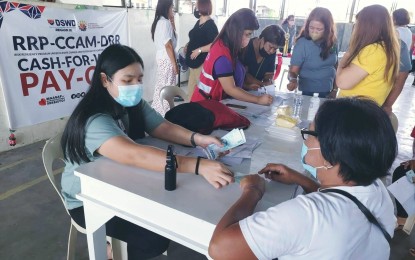 CITY OF SAN FERNANDO, Pampanga – Indigent residents of Nueva Ecija have received their salaries for temporary employment in the Department of Social Welfare and Development (DSWD) program that helps communities deal with the impacts of climate change.
Under the DSWD's Risk Resiliency Program-Climate Change Adaptation and Mitigation Disaster Risk Reduction (RRP-CCAM DRR), the 495 beneficiaries of the cash-for-work scheme were involved in tree planting and communal and backyard gardening projects.
DSWD-Region 3 (Central Luzon) director Marites Maristela said the RRP-CCAM DRR and local government units empowered communities to become disaster-resilient.
"The program aims to enhance the capabilities of each individual and encourage the community to unite in order to effectively combat climate change," Maristela said in a radio interview on Friday.
The 248 beneficiaries from San Isidro and 247 from Cabanatuan City were paid PHP4,200 for their 10-day work on Thursday.
"The program did not only provide additional income to augment the needs of their families but also created awareness of the importance of preserving and taking care of the environment," she said. (PNA)