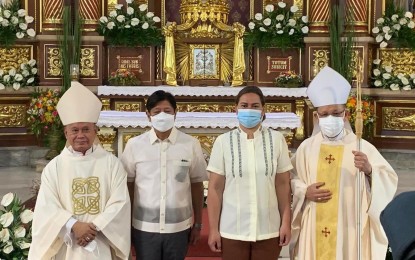 MANILA – Manila Archbishop Jose Cardinal Advincula on Friday reminded the country's new leaders to emulate Jesus Christ by serving the nation with humility and pursuing efforts toward the common good.
"May you be leaders who give life to our people, especially the needy and disadvantaged. Guided by truth, urged by charity, and passionate for justice and peace, may you spend yourselves in the service of the common good," he said in his homily during the thanksgiving Mass attended by President Ferdinand "Bongbong" Marcos Jr. and Vice President Sara Z. Duterte at the National Shrine of St. Michael the Archangel inside the Malacañang Palace Complex.
Advincula was joined by Cotabato archbishop emeritus Orlando Cardinal Quevedo in celebrating the Mass for the country's new top officials.
He also urged Marcos and other new government officials to use their mandate as an opportunity to serve every Filipino and uphold the rights and dignity of the people.
"You have been given the opportunity to seek the good, not only of some individuals or particular groups but of Philippine society as a whole," Advincula said.
He also reminded public servants that as leaders, it is important to learn to listen to know the true condition of the constituency.
"May we also be leaders with depth and grounding – depth gained by listening to God and grounding gained by listening to the people, by being in touch with the lives of ordinary Filipinos," Advincula added.
Joining Marcos and Duterte in the Mass were other Cabinet members.
Advincula also called on Filipinos to pray for the country's leaders and unite for a more prosperous Philippines.
"Compatriots in the spirit of the people, let us love and serve our people together. Let us pray for our leaders; let us enjoy their great and good intentions and initiatives. They need our prayers and cooperation so that their efforts will bear fruit for the good of us all," he said. (PNA)