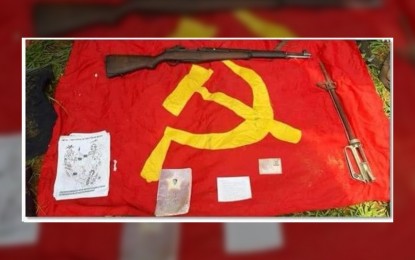 MANILA – The Marcos administration will inherit a highly successful anti-insurgency effort pushed by the Regional Task Force to End Local Communist Armed Conflict for Central Luzon (RTF-ELCAC 3).
Presidential Adviser for Peace, Reconciliation and Unity, Secretary Carlito Galvez Jr., who also heads the Regional Development and Security in the region, said the task force provided government services to communities.
"Nakita natin for a long long time, relatively peaceful ang areas at nakita natin itong continuing na ang (We have seen for a long time, the areas are relatively peaceful and we see that there's a continuing) development," he said in a statement on Friday.
Citing data from the military, none among the 9,854 within the Northern Luzon Command's (Nolcom) area of responsibility "are under the influence of the Northern Luzon Command since the RTF was operationalized.
Lt. Gen Ernesto Torres, Nolcom commander, had previously reported "zero influence" of communist groups in the region.
Nolcom is in charge of peace and security in Central Luzon, Ilocos Region, Cordillera Administrative Region, and Cagayan Valley, including the Scarborough Shoal and Benham Rise.
"Filipinos would really like to help out in ending this insurgency. Even the civilians. We have to harness the patriotism and willingness to help out our fellow Filipinos fill in the gaps that in the coming years ay mabibigyan pa rin ng karampatang budget na kinakailangan ng barangay (they could still be given a budget they need within their villages)," Torres earlier said.
Torres said the CPP-NPA-NDF thrives on the support of the masses.
"Kung wala na po silang masa, 'yung kanilang resources and recruitment ay naapektuhan (If they don't get support from the masses, their resources and recruitment will be affected)," he added.
Galvez said despite challenges, the RTF-ELCAC 3 has effectively dismantled guerrilla fronts, encouraged the surrender of members of communist organizations, and keep the youth and marginalized sectors safe from the communists' deceptions and illegal recruitment.
"Improved security conditions in the region have allowed the government to push for developments and socio-economic gains in the countryside," he said.
The CPP-NPA is listed as a terrorist organization by the United States, European Union, the United Kingdom, Australia, Canada, New Zealand, and the Philippines.
The Anti-Terrorism Council also formally designated the NDF as a terrorist organization on June 23, 2021, citing it as "an integral and inseparable part" of the CPP-NPA that was created in April 1973. (PNA)