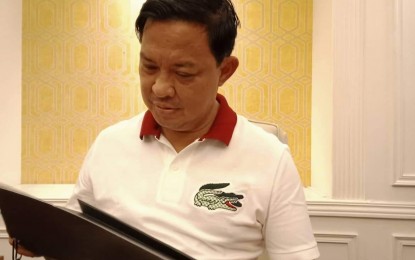 LEGAZPI CITY – Governor Noel E. Rosal on his first day in office on Friday signed Executive Order (EO) No. 1 for the temporary suspension of quarry operations in Albay Province.
Rosal in an interview said Section 138, Paragraph 2 of the Local Government Code of 1991 states "the permit to extract sand, gravel, other resources shall be issued exclusively by the provincial governor under the Ordinance of the Sangguniang Panlalawigan (SP)."
He added that he would check all the environmental compliance certificates (ECCs), including the location clearances as well as the status clearance, business permits, and the certification from the Department of Public Works and Highways (DPWH) to make sure the quarry operators are compliant with the one-kilometer distance from any government infrastructure.
"I will not tolerate operating the quarry operators without a permit, expired permit, and over the volume of quarry materials," Rosal said.
He added that he will create a provincial mining regulatory board as required by law to be composed of representatives from the Mines and Geo Science Bureau (MGB), accredited non-government organizations (NGOs), and also people from the small and large-scale mining groups.
The Philippine National Police will guard the areas to secure the location to make sure the quarry operators cannot operate until the EO is lifted, he said.
He added that only 10-wheeler trucks would be loaded with aggregates or quarry materials.
Truck routes will be divided with barangay roads being off-limits to delivery trucks loaded with aggregates to avoid destroying these.
Quarrying at night will no longer be allowed in order not to disturb the people, Rosal added. (PNA)