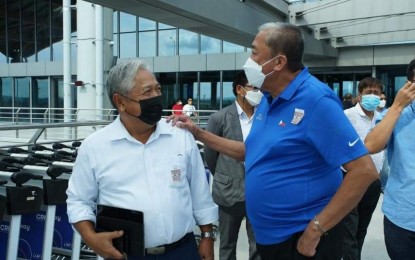 MANILA -- The country's transportation system will be transformed and elevated to global standards as the Department of Transportation (DOTr), under the administration of President Ferdinand "Bongbong" Marcos Jr., will focus its efforts on moving passengers and goods, Secretary Jaime Bautista said Friday.
During the turnover of leadership at the DOTr office in Clark, Bautista said the department would ensure to provide "accessible, affordable, comfortable, and safe transport service throughout the country" through the use of its transport systems.
"As discussed during my initial meeting with President Bongbong, we will transform the Philippine transport industry and elevate it to global standards," he said. "We should focus our efforts on moving passengers and goods that use our roads, airports, seaports, and railways."
Bautista pledged to continue the "Build, Build, Build" program of the previous administration.
"I would like to assure Secretary Art (Tugade) that we will seriously consider continuing the various programs implemented under (former) President Duterte's 'Build, Build, Build' Initiative," he said. "We do not need to reinvent the wheel. These big-ticket projects truly deserve continuity to strike the maximum benefits for the Filipino people."
In performing his duties as department chief, Bautista sought the help of officials and employees in addressing issues concerning the transportation sector.
"As a newcomer to this office, I anticipate the usual hesitation to any changes in the way you do things. I promise to listen to your suggestions. I have always been a good listener," he said, addressing DOTr officials and employees.
"I will not pretend to have all the solutions. With many daunting tasks ahead of us, I ask for your help in making this administration succeed in solving the seemingly insurmountable transport concerns of Filipinos."
Bautista said he is keen on making a difference at the agency.
"We will surely be under scrutiny if we can deliver. My confidence is derived from my own experience at overcoming far pernicious issues that allowed us to sharpen our perspective at attacking contentious problems," he said. (PR)