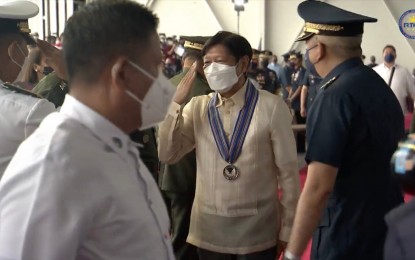 MANILA – President Ferdinand "Bongbong" Marcos Jr. guaranteed Friday his administration's resolve to make the Philippine Air Force (PAF) "stronger, bigger, and effective" under his watch.
Marcos gave the assurance at the celebration of the PAF's 75th founding anniversary at Clark Air Base in Mabalacat City, Pampanga.
In his message, he vowed to continue the ongoing defense initiatives to enable the PAF to keep the country "free, progressive, and secured".
"The ongoing defense modernization effort is in coordination with the basic prerequisites that would complement this administration's vision for a stronger, bigger, and effective air force, capable of defending and maintaining our sovereign state and of assisting our people in times of dire consequences and today's reality," he said in his keynote speech.
He said he will seek further improvement of the aerial and surveillance capabilities of the PAF, considering that the Philippines has territorial disputes with other countries.
He vowed to equip the PAF with additional "state-of-the-art" fighter planes and arm it with more firepower.
"The enhancement of the PAF's capabilities is one of the top priorities of this administration," Marcos said. "A more modern aerial and surveillance capability is all the more felt, given the territorial disputes that we in the Philippines are involved in."
At the same time, he stressed the foreign policy of being "friendly to all and an enemy to none" while remaining alert.
"We shall remain alert and ready to defend it to the hilt," he said.
Marcos also acknowledged the PAF's vital role in fighting the local communist and extremist groups in the southern part of the country.
"This enhanced capability is also proven to be very critical in the Philippine military's efforts to protect the nation from local communist insurgents and the extremist groups in the south," he said.
He lauded the PAF for providing "suitable and sufficient" support during humanitarian and disaster relief operations.
The loyalty, commitment, and love of the country of the "brave and courageous" PAF personnel are "definitely worthy of emulation for not only those in the military but of all citizens of the Philippines", he said.
PAF Commanding General Lt. Gen. Connor Anthony Canlas Sr. assisted Marcos in conferring awards on units and personnel who showcased exemplary performance in service.
"Congratulations to all the awardees. All of you are worth our emulation, our respect, our admiration. You are what makes this 75th year even more meaningful and essential that it already is," Marcos said. (PNA)