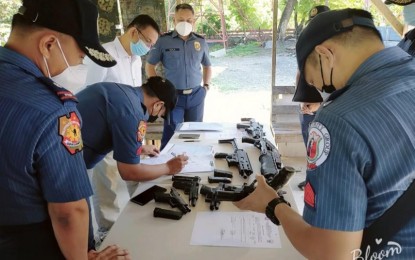 MANILA – A ranking police official said Sunday they are considering perpetual disqualification from owning firearms as a penalty for gun ban violators.
Maj. Gen. Valeriano de Leon, Philippine National Police (PNP) Director for Operations, said in a statement on Sunday that it is one of the stiffer punishments they are formulating for violators of gun control laws.
"We expect that all licensed firearms are responsible firearms holders. On the part of the PNP, we have been announcing any gun ban implementation very early and would even repeatedly remind them of this," De Leon said in a statement.
The former head of the Firearms and Explosive Office said there should be no excuses if violators are caught and they should be ready to face the consequences.
PNP data showed there were more than 3,000 violators during the gun ban on January 9 to June 8 for the nationwide election period, June 16 to 21 in Davao Region for the the inauguration of Vice President Sara Duterte, and June 27 to July 2 in Metro Manila for the inauguration of President Ferdinand Marcos Jr.
The PNP Firearms Revocation and Restoration Board handles cases involving violations of the conditions of owning firearms and carrying them outside of residence.
Under the law, unlawful acquisition or possession of firearms and ammunition carry corresponding jail terms, fines, and revocation of license. (PNA)